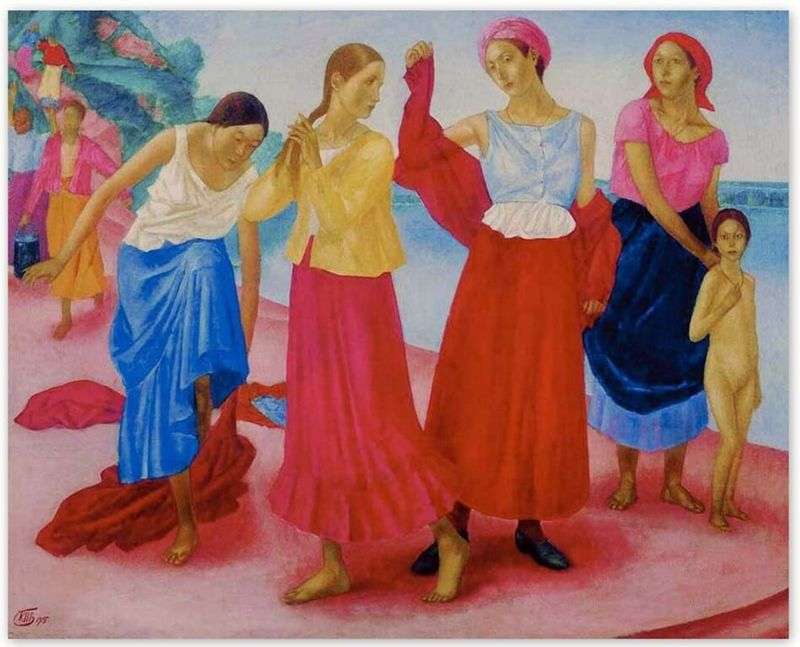 Kuzma Sergeevich Petrov-Vodkin with confidence can be called the most emotional artist. His paintings are not as saturated with details as they amaze the imagination, make you think, look from your point of view and evoke various emotions. A great contribution to his art was made by World War I, the Civil War, the Revolution. All this he had to go through. In order to somehow get closer to the people, the author creates the painting "Girls on the Volga".
He wanted to show exactly those girls whom he saw himself. They are depicted on the banks of the Volga and are going to swim. Far away down the slope to them more girls descend. They undress, throwing clothes on the ground. Colors attract the most attention. They are very bright and unnatural. Women are dressed in long skirts of bright blue, red, crimson and yellow colors. The same blouses and sweaters at the top. One little girl is already completely naked and waiting for her mother. Also striking legs. All the girls are barefoot, and one is still wearing dark shoes. Almost everyone has the same person; moreover, they have similarities with women in other paintings of the author.
In general, the picture is attractive, bright, invigorating. There is no hint of vulgarity and tragedy. Perhaps this is how the author showed his vision of girls who came to spend time relaxing by swimming in the Volga. Everyone, looking at the picture, imagines this moment and everything that happens before or after. This is the main meaning of the paintings of Petrov-Vodkin.