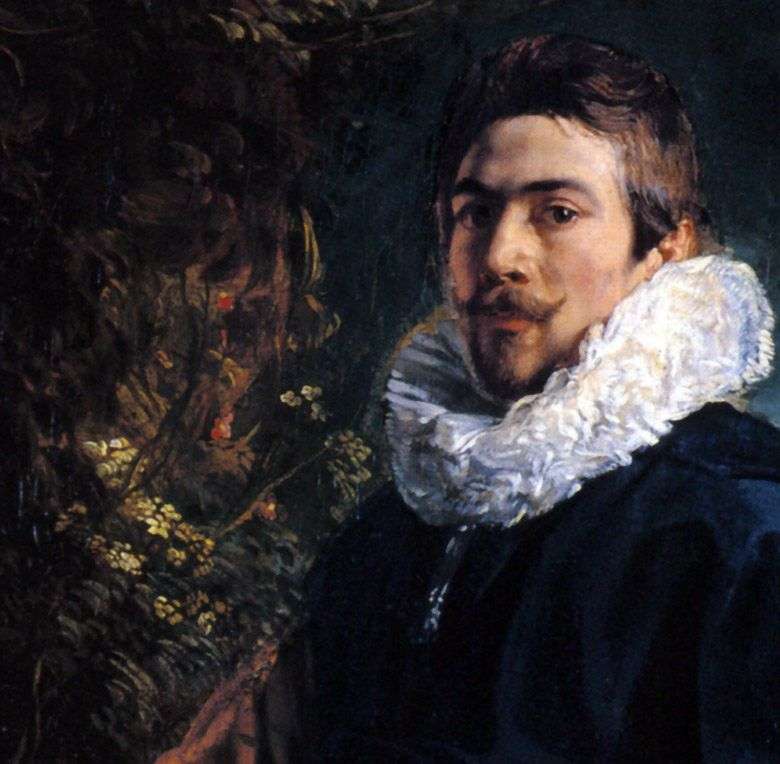 Self-portrait of the Flemish painter Jacob Jordaens. Self-portrait is part of the painting "The Jordaens Family in the Garden," written by a painter in 1621. The size of the family portrait is 181 x 187 cm, canvas, oil. Jacob Jordaens or Jordan is one of the most talented Flemish Baroque painters. He was born in Antwerp on May 19, 1593 in the family of the manufacturer.
At the age of fourteen, the post-peak was trained in the studio of the artist Adam van Noort, who also studied Peter Paul Rubens. At the age of eighteen, Jordaens was admitted to the guild of St. Luke, was given the title of free artist and was able to begin his professional activities legally. He was influenced by the art of Caravaggio, the work of Jansens, and the painterly manner of his contemporary, Rubens.
In 1615, Jordaens was certified by the Antwerp Guild of Artists as an artist-designer. However, Jordaens did not feel a special desire to decorate the scenery for the city's spectacle and decided to devote himself entirely to classical painting. In 1621, Jordaan was offered the post of dean of the guild of St. Luke, which he performed for many years. Throughout his long creative life, Jordaens created paintings on religious, mythological and historical themes, painted portraits and everyday genre scenes, was recognized as a master of monumental paintings and watercolors.
In the art of the Flemish Jordaens, the festive spectacle and splendor of Baroque painting is combined with a touch of innocent thoroughness. The art and creative concept of Jacob Jordaens are reflected in his paintings with prosaic, sometimes coarse, and sensual force. The completeness of the optimistic worldview of the Flemish reality of the early 17th century brings the artist closer to Rubens, but unlike Peter Paul Jordaens did not possess such a vivid manner of heroizing the images and characters of paintings, so inexhaustible and violent fantasy. Mythological and religious subjects in the pictures of Jordaens are interpreted by the artist in a more mundane genre plan. In 1650, Jordaens accepted the religion of Calvinism, but continued to fulfill orders for the monasteries of the Catholic Church. The Flemish painter Jacob Jordaens died on October 18, 1678,