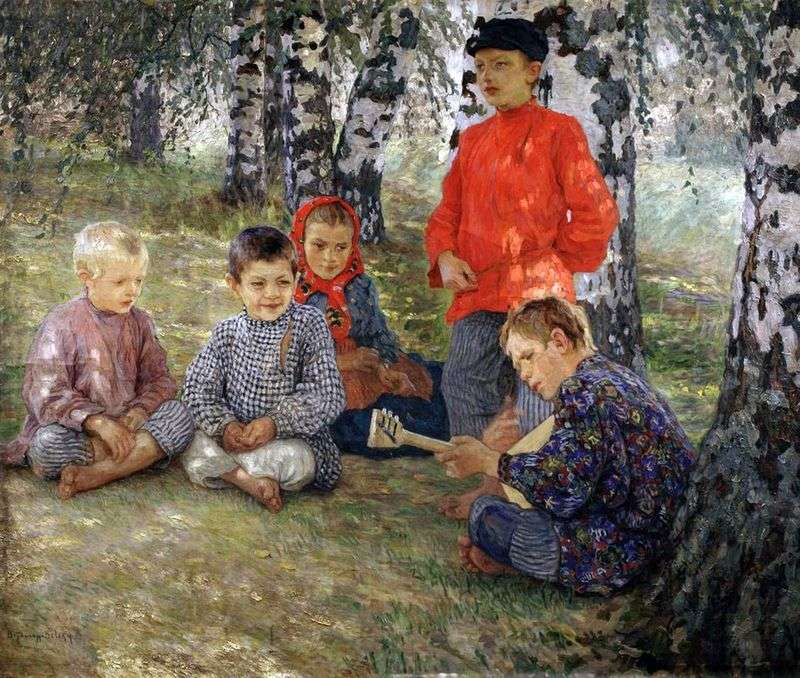 Special love artist-realist Nikolai Petrovich Bogdanov-Belsky nurtured genre scenes, namely, where the main role played by simple peasant children. Here is the picture "Virtuoso" presents us not a strictly dressed musician with a violin in the concert hall, but a young village musician, whose grateful listeners were four more such peasant boys, comfortably located on a picturesque sunny glade surrounded by birches.
Written in a somewhat impressionistic manner, the landscape even more focuses the viewer's attention on the characters in the picture. The little boy in a loose loose shirt is playing something – you can see from his strained face how he is trying. The faces of the grateful listeners express absolutely different emotions – the boy in the plaid shirt smiles rather amazed, next to the sitting guys show a genuine interest, and the tall boy in the red shirt and did get up at all – whether in a dance ready to start off, or simply heard.
An unusual calmness and creativity imbued this picture – a kind of rural pastoral, where the focus is on the cozy and carefree world of children. Being an illegitimate son of a farm laborer, the master knew this world very well and opened it with pleasure to the viewer, revealing to him the sentimental beauty and charm of peasant childhood.
A remarkable painting of Bogdanov-Belsky should be placed on a separate pedestal. As absolutely all the works of such subjects, and the separately taken "Virtuoso" exude warmth, love and genuine kindness. And, it seems, the unpretentious melody of the peasant balalaika is still pouring down from the canvas, drawing its young listeners.