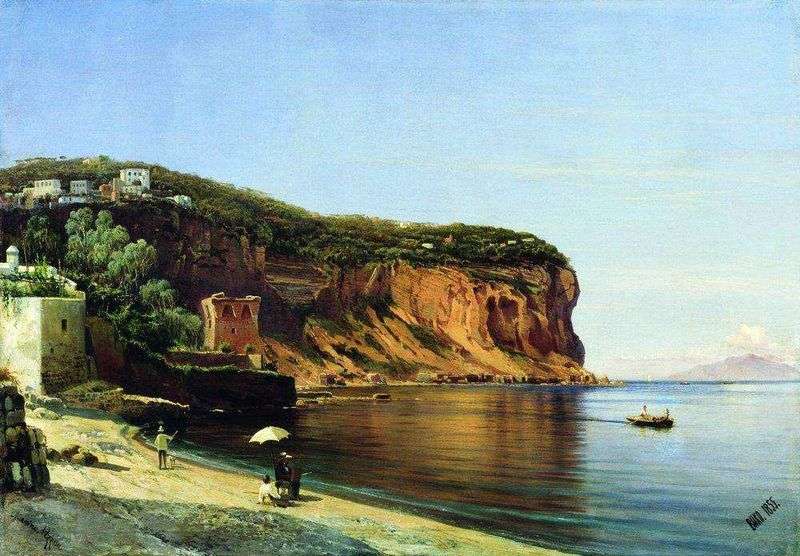 Without any doubt, Bogolyubov is one of the first most talented marine painters of his time. Since 1854, after leaving the naval service, Alexei Petrovich Bogolyubov traveled throughout Europe for seven years. In Geneva he used the advice of the famous Kalam; in Paris he worked in the studio of Isabé; for two years he studied with Andrei Achenbach. In 1855 the artist went to Italy.
In Venice, where he often visited and later, Bogolyubov stubbornly wrote from nature, drawing inspiration from the works of the remarkable Carpaccio, church sculptural carvings, paintings of masters of the Italian Renaissance.
In the spring of 1855, Bogolyubov, along with fellow academics, traveled to studies in Naples, Terracino, Palermo, Messina, Sorrento, and through Capri returned with them to Rome. The result of this trip were paintings "Roman Night", "Stormy View of Capri Island", "Evening in Naples" "View of Sorrento" and others.
The work of Bogolyubov at heart is a quest for his own style in art. The artist did not attempt to accurately reconstruct the texture of the objective world and thereby convince the viewer of the authenticity of the depicted motif. On the contrary, he set a certain distance between visual accuracy of perception and picturesque reproduction, thereby emphasizing the richness and richness of colors.