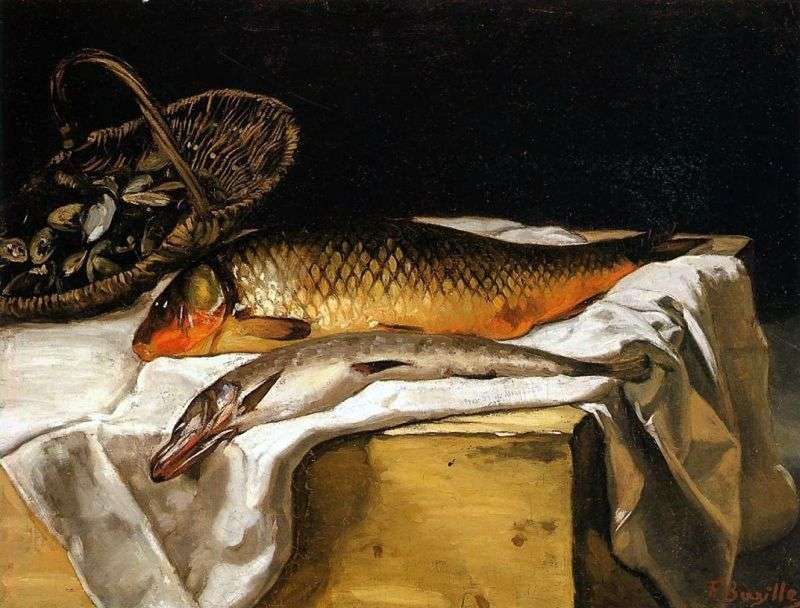 Paris Art Salon of 1866 was a turning point in the works of Basil and Monet. Both artists prepared for their first exhibition two ambitious works: "The Girl at the Grand Piano" by Basil and "Breakfast on the Grass" by Monet. But if the picture of Basil was simply rejected by the jury, then "Breakfast on the grass" was not ready for the beginning of the exposition.
As a result, the public was given more modest "Still Life with Fish" and "Camilla", respectively. A year earlier, Edouard Manet had already shown a very similar still life in the gallery of Louis Martine.
The paintings of Basil and Manet had much in common: dead fish of different sizes to create a composition space and a dark palette of colors with interspersed silvery and pinkish orange tones. And if "Camille" Monet attracted the attention of critics, forcing to talk about the author, as not about the next landscape painter, the still life of Basil remained almost unnoticed.
One of the reviewers noted the "lack of air circulation," while appreciating the "appetizingly looking carp". With careful study of the details of the image, the picture was too simple, and the author recognized this.