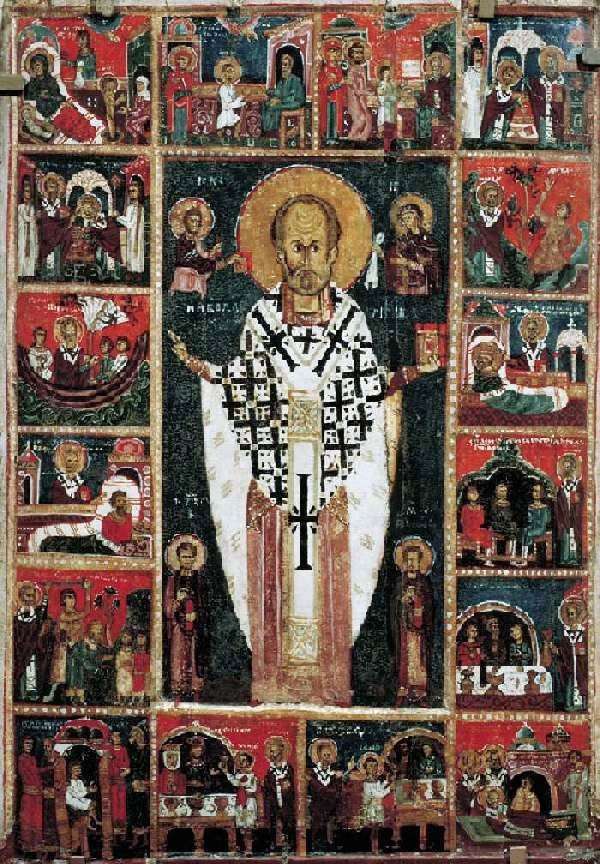 Novgorod. Occurs from the St. Nicholas Church in Ozerovo village, Leningrad Region. St. Nicholas Bishop of Myra is one of the most revered saints in Russia. His numerous hagiographic images have been preserved in the Novgorod art, since the XIV century. The image of a saint in the middle of an icon from Ozerev refers to an ancient iconographic type that was obtained in the 16th century. the name "Nikola Zaraysky".
On the sides of the figure of the saint are the brothers-doctors Kozma and Damian, famous for their gratuitous treatment of many diseases. They were also considered patrons of blacksmiths and jewelers. The cult of holy doctors, like the cult of St. Nicholas, was widespread in the North.
The image of Nikola, Kozma and Damian in the middle of the icon can reflect the dedication of the altars of the temple for which it was written. It is also possible that the saints were co-residents of the family of the customer of the image.
The icon from Ozerev is among the oldest among the surviving icons with the life cycle of Nicholas the Wonderworker. In 16 hallmarks presents the compositions of Christmas, childhood, the installation of St. Nicholas in the church hierarchy and the numerous miracles of the saint. The unfolded composition of the hallmarks testifies to the established tradition of the icon-painting depiction of the life of Nikola, known in Russia from written sources from the end of the eleventh century.