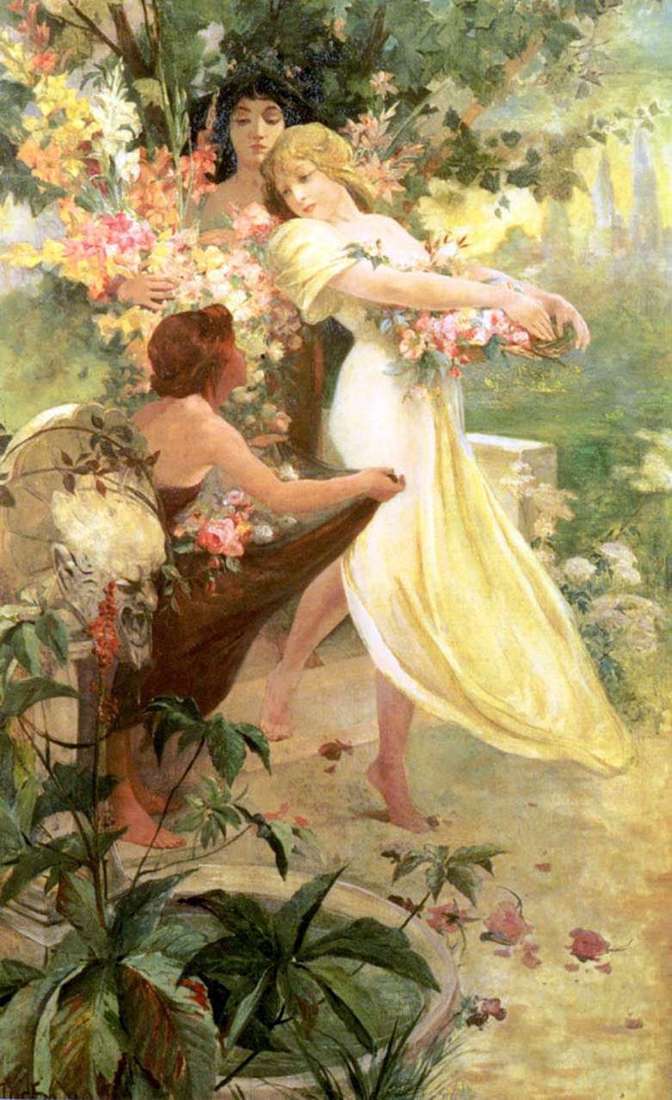 In the spring, many painters were inspired. One of the first was the artist of the Italian Renaissance Sandro Botticelli. Why is she so loved? For awakening from a long winter sleep, for the revival of vital energy, for a flight of inspiration and creative imagination. And what more does an artist need!
His version of the "spring theme" is also in the picturesque heritage of Alphonse Mucha. Three young graces, immersed in fresh greenery and in a sea of flowers – that seemed to be the whole content. But the name of the picture informs not about the girls, who are glad about the arrival of this long-awaited time of year, but about the mood. "The spirit of spring" – this is what the Czech master of the brush seeks to convey. And, of course, color is extremely important to him, designed to convey this very spirit of joy and love. The artist prefers soft, pastel tones.
The figures of the girls are also expressive in their own way. We see one of them from the side, on it a raised brown cape. Her gaze is fixed on the one in the center of the entire canvas – a thin waist, in her hands – a wreath, a light summer dress, graceful legs, and one is coquettishly raised in the spirit of light erotica. And, finally, the third person of the background, almost covered in flowers and greenery, with languidly half-closed eyes, deeply seen. What are they different! ..