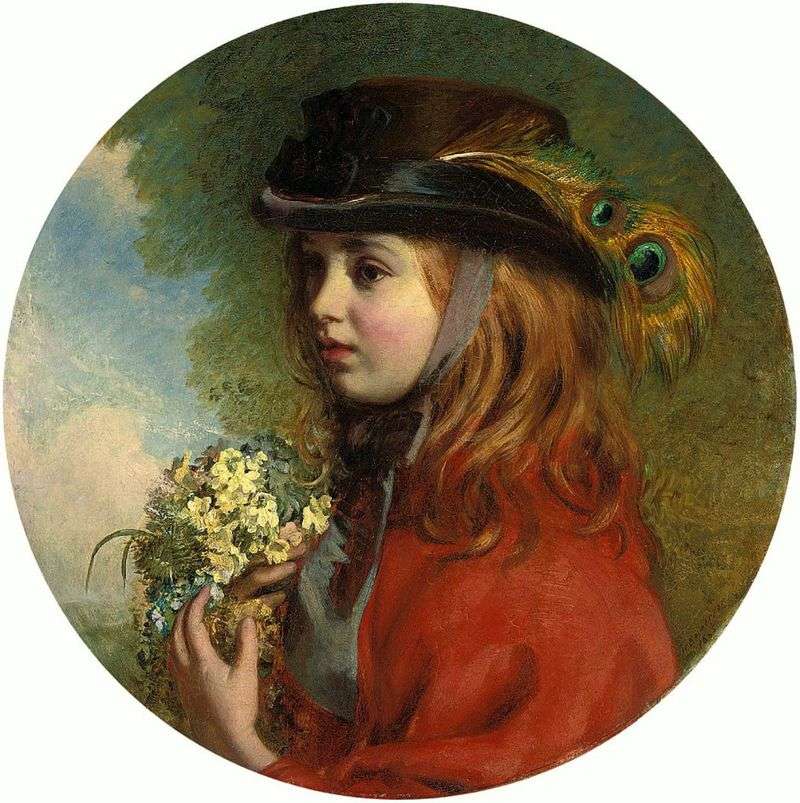 The painting "Spring" is written by the English artist Henry Hetherington Emmerson. The author of the work was a portraitist and illustrator, he liked genre paintings on everyday subjects. "Spring" belongs to the second half of the XIX century to the portrait genre with elements of impersonation in the image of a girl in the spring period of the year.
To display the awakening of nature from hibernation Emmerson used a win-win decision to use the girl as the protagonist. A child, like spring, is the birth of something new, unknown and long-awaited. The bouquet that the heroine holds is collected in the same way from spring flowers. Weightless flowers are prescribed very thinly. To their palette are blended white and a little cold greens. The author is attentive to the smallest details of plants, which can not be said about the central heroine of the canvas.
Emmerson used a very dense texture of colors and a dark palette for writing both the long-range plan and the girl-spring. Too much brown and red for such a young creature. In warm color I want to add cold pink and vanilla notes. There is a flash of light and a little more light. Is not it? When examining the landscape as the basis for the distant plan, attention is attracted by a piece of blue sky. The left "heavenly" corner is too small, but the porridge of a mixture of greenery and ocher plants takes an unfairly large place.
The girl herself is sweet and blush. However, it has little life and natures. The portrait was painted from nature, but it looks flat and far-fetched. The girl's image is prescribed by a dry brush, smooth and smooth. The author paid little attention to chiaroscuro and writing folds of tissue. Therefore, the detail of the cape looks unnatural. Emmerson used a lot of clean paints in his work – red, brown, soot. Whether it's a habit, or the artist was afraid of mixing colors.
"Spring" Emmerson turned out very fiery, hot, red and flat. The canvas is so dark that the image of the girl is lost in the background, except for a light bouquet.