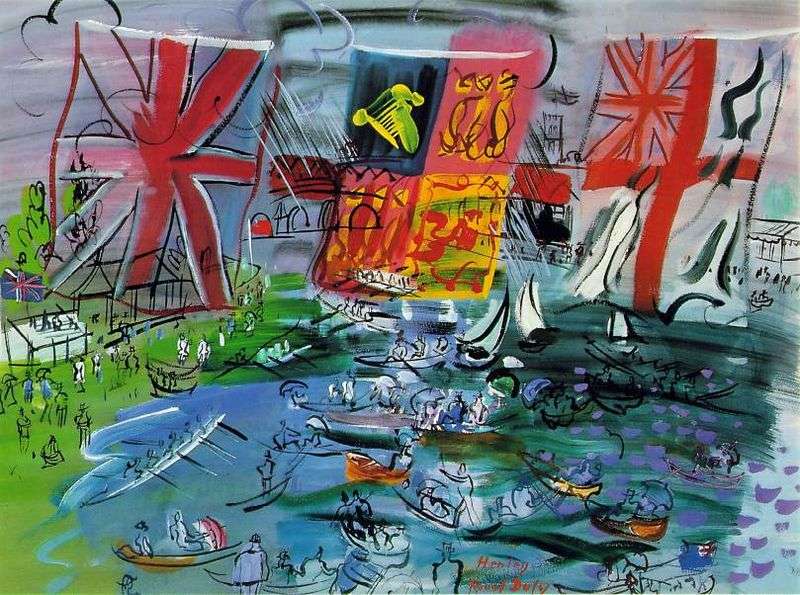 In 1933-34, Duffy spent several months in England. Here he continued to write his favorite subjects – holidays and high-society entertainment. The artist admires these bright, joyful eyes for the eyes, and at the same time his view remains ironic.
Many contemporaries of Dyuffi believed that he was wasting his talent in vain, addressing trivial topics, but Dufy replied: "If people like this so much, why can not they please me, the artist?" Working on the "Henley Regatta", Dufy allowed himself a lot of liberties.
The sparkling blue water is washed by the shore, which although
written in green, but strongly resembles the Mediterranean coast. At the same time, it bends as the bank of the Thames can not curve. Unexpected looks among ordinary boats and the Venetian gondola, which could not participate in the English regatta. But Dufy did not pretend to reporter accuracy. He wanted to put a gondola here, because she's beautiful, and did it.
Bright and festive, "Henley Regatta" is typical for Dufy of the 1930s. The artist painted the canvas with bold smears of gouache, superimposed on a simple linear drawing, without attaching special importance to accurate observance of the perspective.