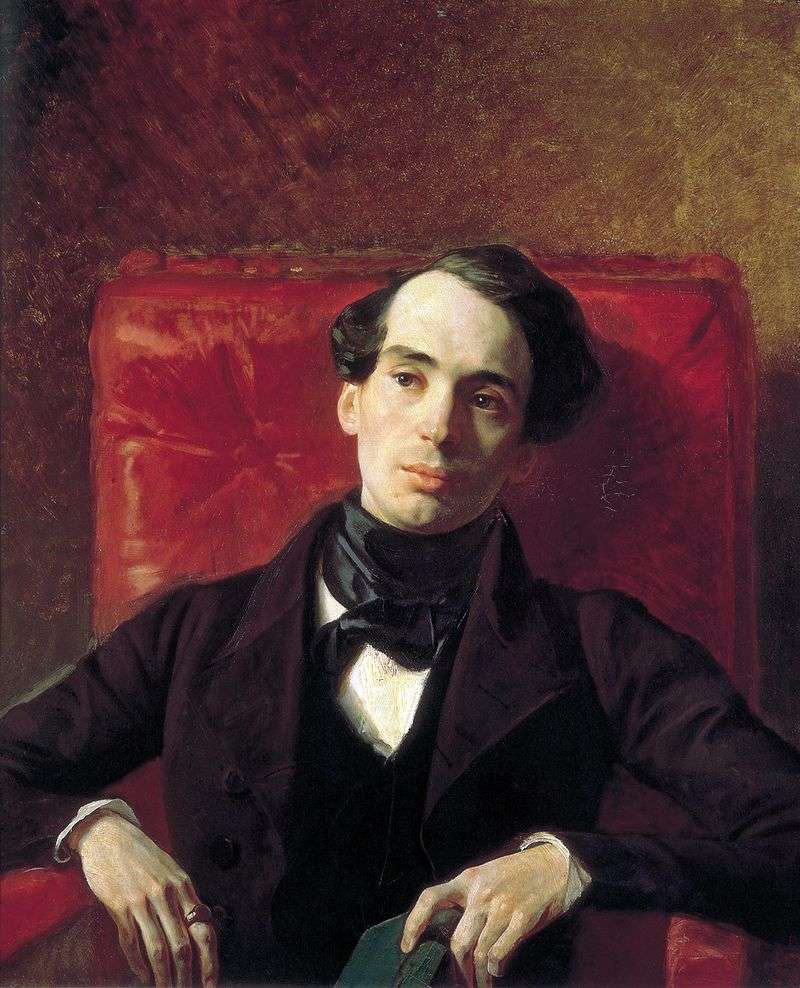 In the gallery of portraits of writers, created by Bryullov in St. Petersburg, the most perfect is the image of the poet and translator Goethe – AN Strugovshchikov. Bryullov associated with him friendship, reinforced by common views on art. It was to him, Strugovshchikov, he presented with his printed dedication his marvelous romance "The Skylark" by MI Glinka.
In the characterization of Strugovshchikov's poetic image, in the seriousness of his emotional experiences reflected in the gaze of the brown eyes, in the calm concentration of the face with a soft line of broad lips and a split
chin there is nothing from the effects of a mysterious nature. His position is relaxed and natural, and his hands are true to the gesture lowered in poetic meditation with the volume of the verses just read. Strugovshchikov's face, which is a bright spot in the frame of dark hair and a black neck scarf tied with a large knot, attracts the beauty of the human intellect, the subtlety of feelings.
The image of the poet, created by Bryullov, is consonant with the understanding of the creative state about which Strugovshchikov wrote in his poems "To the Artist": … That is your feat: he accomplished it. In moments of pure pleasures From the depths of spiritual strength Vylepennykh Bryullov in the portrait with great skill and head Strugovshchikov's hands are surrounded by a soft play of light and shadow. In their modeling there are no sharp contrasts of light and dark spots, designed for the expressiveness of the image.
While retaining a range of neutral dark tones favored during the Petersburg period, Bryullov enlivened his palette with a rich favorite red color, in which the back of a leather armchair forming a picturesque background for the face and figures of Strugovshchikov is painted. "I reproached him," recalled his conversation with teacher Zheleznov, "that he did not finish this portrait." Bryullov answered: "I'm not entirely to blame. Strugovshchikov was always ready to sit when I did not want to work, and when I was working, he did not want to sit. "
In the story of Zheleznov, the character of Bryullov, who resolutely refused to work without nature and creative inspiration, was given a vividly. According to legend, preserved in the family Strugovshchikov, for the portrait was made a frame according to Briullov's drawing.