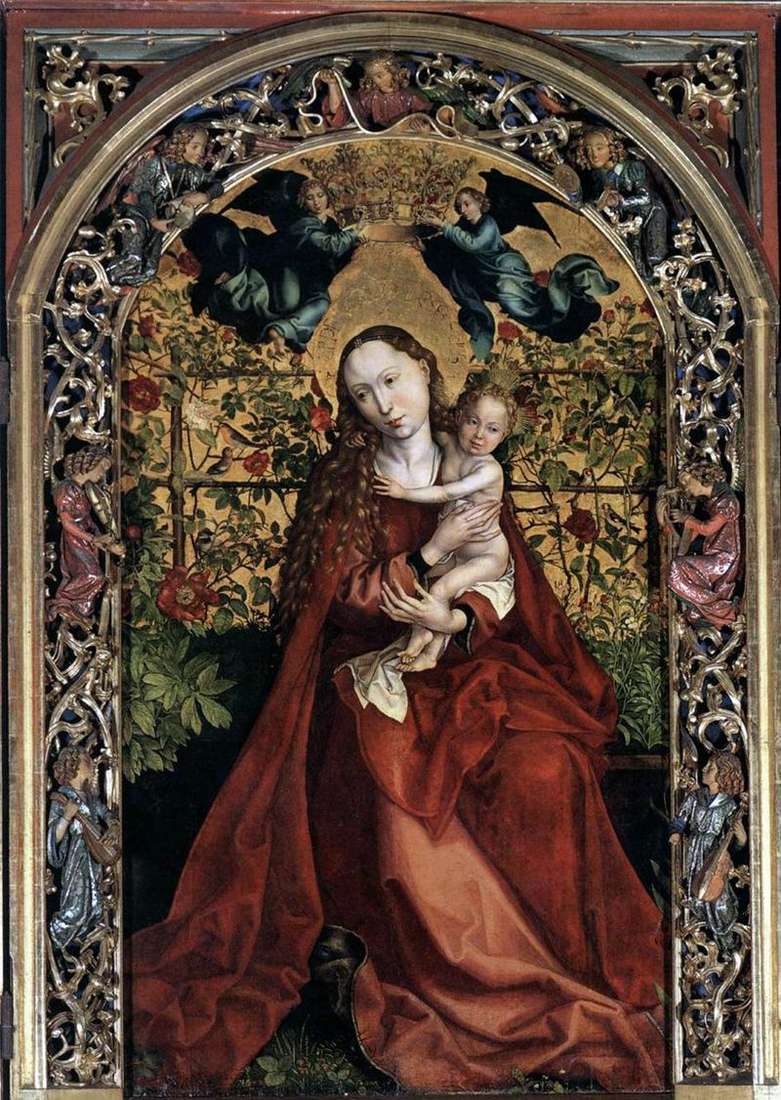 "The Madonna of a Gazebo of Roses" was written in 1473 for the Church of St. Martin in Colmar. The artist depicts a symbolic motif, favored by late Gothic craftsmen, a gazebo of roses was a symbol of paradise. Due to the harmony, touching fragility, balanced color scheme, subtlety and elegance of composition, the picture is considered a true masterpiece of German painting.
Martin Shongauer depicted the Our Lady in a blooming garden, surrounded by flowers and colorful fluttering birds. Maria gently holds the baby in her arms, who grabbed at her dress and hair. Behind them stands a gazebo of red
and white roses. Magnificent crown of Our Lady is held by two angels in blue robes.
Medieval religious painting was full of symbolism. These symbols were understood by contemporaries who read the psalms, listened to liturgies and sermons. We need comments on what to understand.
Everything pictured in the picture "Madonna of a bower of roses" has a certain symbolic meaning. So, the thorns of the rosebush represent the thorns on the crown of thorns of Jesus, and the red rose itself is the traditional flower of the Virgin Mary: in the psalms, the Mother of God is often likened to a rose garden or a flower.
One can see a white rose on the canvas. According to medieval legend, a white rose is a symbol of death. Thus, it can personify the future Passion of Christ. Levkoi are a plant of the cruciferous family and symbolize the cross on which Jesus will be crucified. The artist painted irises, also considered the flowers of the Virgin Mary and the symbol of the Immaculate Conception. Snow-white flowers of strawberries symbolize virgin purity and innocence, strawberry trefoil denotes the triune unity of God, and red berries – the blood of Christ.
According to the emotional impact, the picture leaves a feeling of pacification and an almost palpable alarm. Maria's pale face froze in a spiritual calm, but in the thin fingers there is noticeable tension, a premonition of drama.
The painting "The Madonna of a Gazebo of Roses" is truly a dramatic fate. In the 18th century, the picture was barbarically cut off from all sides. Especially the upper hand was damaged: images of God the Father and the Holy Spirit were completely deleted. In 1912, the "Madonna" was placed in a gilded protective case, richly carved in wood. On the casement doors, the local artist Martin Foerstein wrote the scene of the Annunciation.
The case successfully protected the precious picture from the devastating effects of time, but could not save it from human greed. In 1972, "The Madonna of a Gazebo of Roses" was stolen from the church of St. Martina. The picture was found in Lyons only a year later.
The newly acquired "Madonna" was not returned to the functioning church of St. Martin, but placed under heavy security in the Dominican Church, turned into a museum.