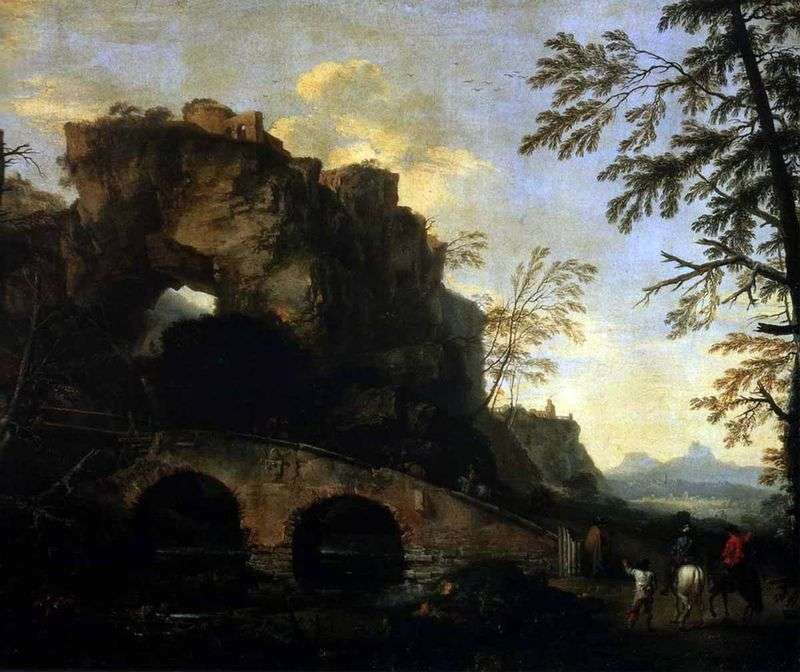 Before you is one of the most famous and characteristic landscapes of Salvator Rosa. Piles of rocks, ruins, broken trees, gave, sinking in a bluish haze – all these are very typical material signs of his style. Typical and color, rich greenish and golden hues.
It should be noted that our hero never painted landscapes from nature. Any of his landscapes is a synthesis of landscape impressions ", received by him during trips around Italy. Although, of course, in the Landscape with a destroyed bridge", and in other famous paintings, Rose focuses primarily on the neighborhood of Naples.
Something in common with his landscapes with the landscapes of famous Baroque artists – in particular, with the landscapes of Rubens. Both Rose and Rubens focus on the elemental grandeur of nature, on its monumental dynamism. But Rosa's landscapes are more specific, their degree of saturation with life details is higher, and, moreover, he, unlike Rubens, almost always introduces some romantic stuff in his landscapes. "In this case, two armed riders act as such stuff. asking for directions from the peasant.