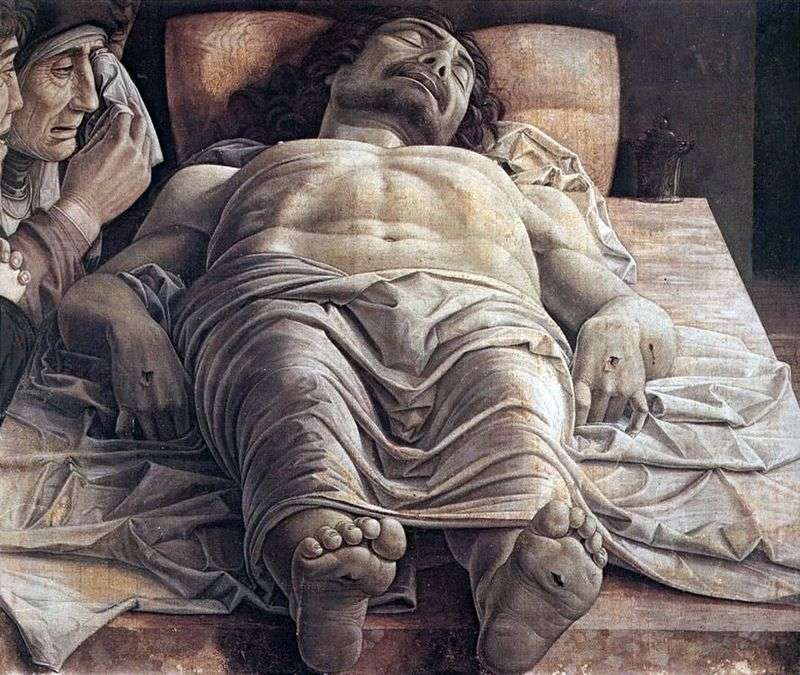 One of the greatest masterpieces of the Quatrocento era, as well as tempera painting, by Andrea Mantegna, also demonstrates a rather unusual angle. Also known as "Dead Christ" or "Lamentable", the picture depicts the corpse of Christ lying on a marble slab, surrounded by the mourners of the Virgin Mary and John, mourning his death.
Unlike most early Renaissance religious paintings, this is not an idealized portrait of Jesus: the holes in his arms and legs, the unnatural color of his skin, the dramatic perspective give him coldness and realism.
The exact date of creation of the
picture is unknown, although experts suggest that it is likely that the work can be dated 1470. If so, then it must have remained in the artist's studio for about 30 years until it was sold, after Mantegna's death, as payment of his debts. Nowadays, the painting hangs in the large gallery of Milan – Pinakothek Brera, as one of the best works of Christian art of the 15th century.
The overall theme of the picture is not a biblical story at all. She does not appear in any of the New Testament Gospels. However, the theme became central in the works of such masters as Rubens, Botticelli, Annibale, Giotto and others.
The space is accentuated by an unusual view from the side of the window, which makes Jesus's bed even more like a gravestone. Naturalism and drama underlines the lifelessness of the figure.
Staticity of what is happening is created thanks to a series of vertical and horizontal lines. Verticals include the position of the arms and legs of Christ, as well as the right edge of the table. Horizontal visible in the lower edge of the bed, in the folds of the fabric and the position of the pillow. However, the illusion of movement is created by the means of mourning. This contrast helps add tension that attracts our attention. Muffled colors, coupled with other techniques, leaves no room for religious rhetoric.
Despite the fact that by the end of the 14th century, oil painting began to develop, Mantegna, like many other painters of the early Renaissance in Italy, preferred tempera painting or fresco, although from time to time he resorted to oil paints.