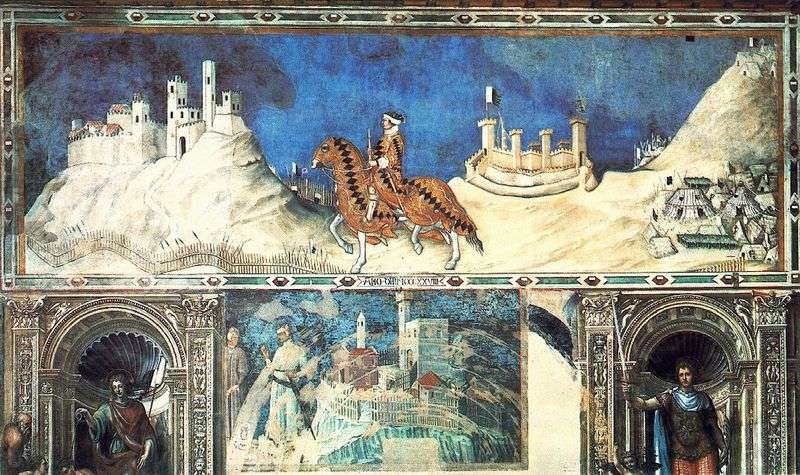 In the great hall of the Siena Palazzo Pubblico opposite Maestà "Simone Martini depicted – also the entire width of the wall – the equestrian portrait of the famous condottiere of Siena. On both sides of the fresco portrait you can see two conquered, deserted fortresses, supposedly close to Siena Montemassi and Sassoforte, whose capture in 1328 was a glorious victory for Gvidoriccho. The figure of a purposeful, proud, solid condottiere who does not have objections is a remarkable portrait of character.
On the blue background, the profile of his energetic face is clearly visible – one of the best early examples of trecento portrait art. The face is strongly emphasized by a high white collar and a white border of a headdress. Simone Martini is here, as in the paintings of the Assisi cycle about St. Martine, pays great attention to a believable and at the same time decorative image of details. Gvidoriccio is wearing a shiny shell, which only near a leg stretched in stirrup looks out from under a magnificent condottiere cloak, adorned with motifs of his coat of arms: a row of black rhombuses on a gold background, between which vines with green leaves twist. According to medieval custom, the horse is removed in the same colors.
Long ceremonial blanket with a wide cloak of the cloak majestically gathers in folds at the solemnly slow march. The lifeless landscape with large yellowish, picturesquely modeled patches of bare rocks and fortresses contrasts sharply with the bright, richly decorated gilded headdress of the victorious commander and with a dynamic rhythm of outlines. The greatness of the triumph is emphasized by the figure of Gvidoriccio considerably enlarged in comparison with the background.
The rider is not inscribed in the landscape space, the left front foot of his horse stands already on the picture frame, where the year of the great victory was written: ANO DNI MCCCXXVIII ", immediately after which this fresco was probably executed. A previously unknown fresco depicting a captured and devastated fortress was discovered, which the victorious commander receives from a defeated ruler, probably painted by the father-in-law of Simone Martini – Memmo di Filippuccio – in the 1320s. manner of writing Ma had already felt the impact of creativity Simone. The illusory niches along the edges of the picture shows the figures of the two patron saints of Siena, St. Ansan and St. Victor. They were written in 1529 by the famous master of Siena Cinquecento Sodom.