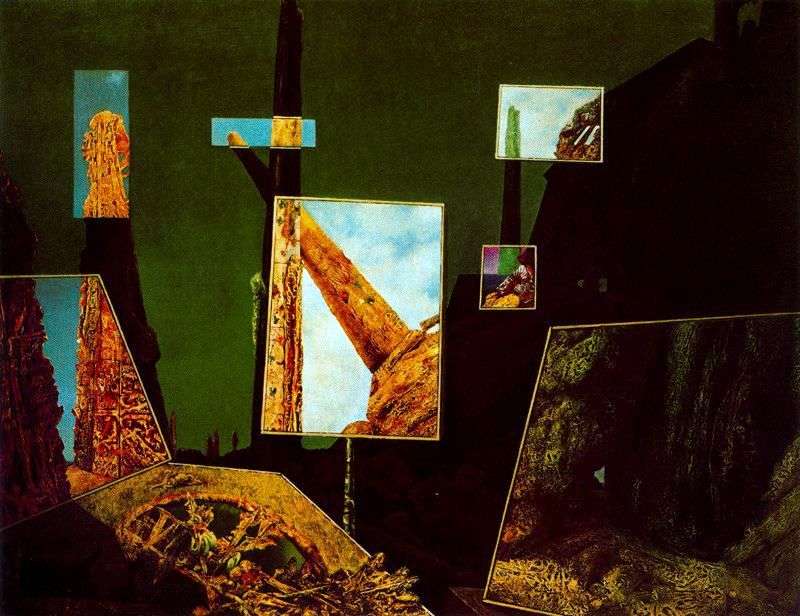 This technique consists in the fact that the artist pours ink on a sheet of paper, covers it with a second sheet on top, and then again separates them. As a result of these manipulations, an abstract drawing is printed on the top sheet.
In the second half of the 1930s, many surrealists used the technique of decalcomania, but Ernst was the first to apply it in oil painting. He used "spontaneous" surfaces, but then he worked through the details of the paintings for a long time, creating the illusion of a fantastic, frightening reality.
The viewer can not always find out where the fragment made in the technique of decalcomania ends and where the "usual" oil painting begins. Very indicative in this sense is the "Bride's Robe", 1939. Here, however, the dekilkomania "betrays itself" in the bride's loose hair, like a fan.
In the technique of decalcomania, her cloak is also created, which is depicted in the picture in the upper left corner. The illusionist "picture inside the picture" is typical of the works of many Surrealist artists. Repeatedly resorted to him and Ernst himself, as evidenced, for example, by his painting "Day and night," 1941-42. On this canvas the pictures framed by thin light frames are located against a background of a strange, amorphous landscape.