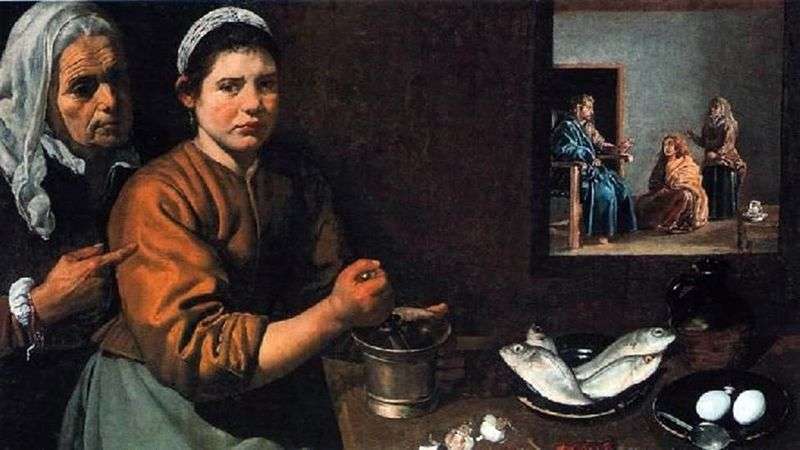 The large figures in the foreground of this canvas, made around 1618, as well as the still life on the kitchen table are very typical for the style of the early Velasquez; typical for the artist and the chosen plot. Unusually, only the shift in the accent of the picture, namely, the figure of Christos in the armchair, which talks with Maria and another woman, who carefully listens to him, in the background. This brightly lit scene, reflected in a mirror hanging on a dark kitchen wall, seems far away and looks like a dream, although both women closely watch it.
The index finger of the old woman as though draws attention of the spectator to this scene. Martha, a busy housewife, watches tensely. The sullen expression of her face, apparently, is caused by the whispering of the old woman, causing her envy of her sister, who unlike Martha is not deprived of the opportunity to listen to the preaching of Christ. MARFA. Martha is the sister of Christ's friends Mary Magdalene and Lazarus, an ordinary housewife.
The Gospel of Luke describes how she hospitably received Christ in her home and busied herself with housework, serving her on the table, while Mary listened to his speeches. When Martha rebuked Christ, why did not he send Mary to help her, he replied that Mary chose the best path. Martha is always portrayed either at work, or surrounded by kitchen utensils or with a bunch of keys. She, like her sister, worked diligently in the gospel of the faith of Christ.
One day Martha, Maria, and Lazarus set off on a raft without food, but safely landed near Marseilles. At that time, the ferocious dragon terrorized the inhabitants of Tarascon, but Marfa pacified the beast with the help of holy water and a cross.