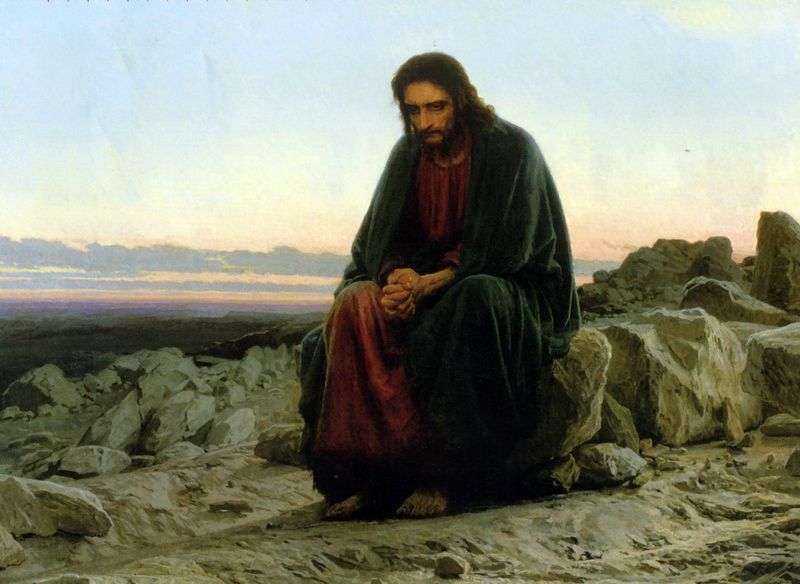 Jesus sits on a rock and waits for the sun to rise. The horizon line divides the canvas into two parts: a cold stone desert – on the one hand, and the sky – a world of light and hope, a symbol of the future transformation – on the other. Exactly in the middle of the canvas, on the border of these two worlds, the closed hands of Christ are depicted, which together with his face represent the visual and semantic centers of the picture. Here the zone of the greatest "tension" is concentrated at the moment of acceptance by the Savior of the destiny destined for him.
The philosophical
principle in the picture comes to the fore thanks to the compositional solution: it is evident that the likeness of Christ's posture on the canvas of Kramskoy with the posture of FM Dostoyevsky – the "master of doom" in the well-known portrait of V. G. Perov. Eternal, common human problems, the opposition of good and evil were central themes in the work of the artist and writer. The work "Christ in the desert" made an indelible impression on the public. The Academy of Arts even wanted to award Kramskoy the title of an academician, but the artist refused to follow his principles with nothing to do with official art.
The painting was also presented at the Second exhibition of the Association of Traveling Art Exhibitions, one of the founders of which was Kramskoy. Many wanted to buy a canvas, but it eventually went to P. Tretyakov for six thousand rubles. Tretyakov repeatedly said that "Christ in the desert" – one of his most favorite paintings.