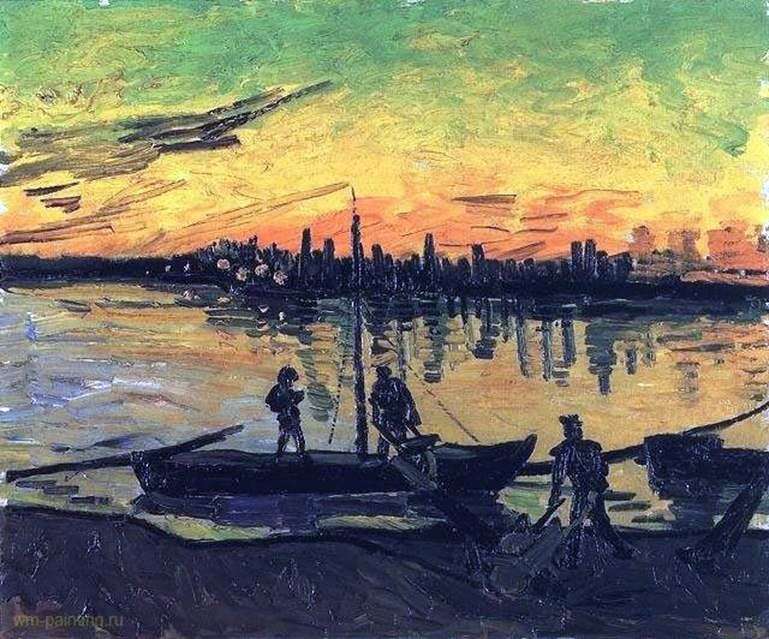 The painting "Barges 2" by Vincent Van Gogh is a continuation of the picture "Coal barges". The artist was so impressed with this topic that he decided to write a similar picture with a slightly modified composition. The painting has a more etude character, it is written alive and emotionally.
The foreground is presented by barges berthed to the shore, loaded with coal. People unloading charcoal on bogies and barges are written in dark colors, almost in the same silhouette, only slightly can be seen tonal differences, in which human figures, the lines of the shore, the filled cart are visible.
The picture shows an even later hour than in the first version of the picture. The sky became even darker, shades of yellow, orange and green colors became more saturated. The lilac color of cirrus clouds has acquired a dark outline. The city depicted on the horizon is completely covered in darkness. Its silhouette is contrasted, in relation to the fiery sunset sky. Reflection of the city with wide dark smears spreads along the river surface. On the left side, an incident wave is seen, highlighted by light arcuate strokes.
Looking at the technique of execution, a quick live smear, there is a feeling that the artist was trying to quickly depict on the canvas, the picture he saw, without losing fresh emotions and mood. The picture is imbued with drama, which speaks the sunset of the passing day, these people who do not know rest and the very color of the work itself, impregnated with contrasting combinations of colors that cause an alarming mood.
If in the picture "Coal barges" the artist's admiration for the landscape is still noticeable, here he no longer admires the landscape, but uses it as a dramatic background, in order to emphasize the hard work of the common people.