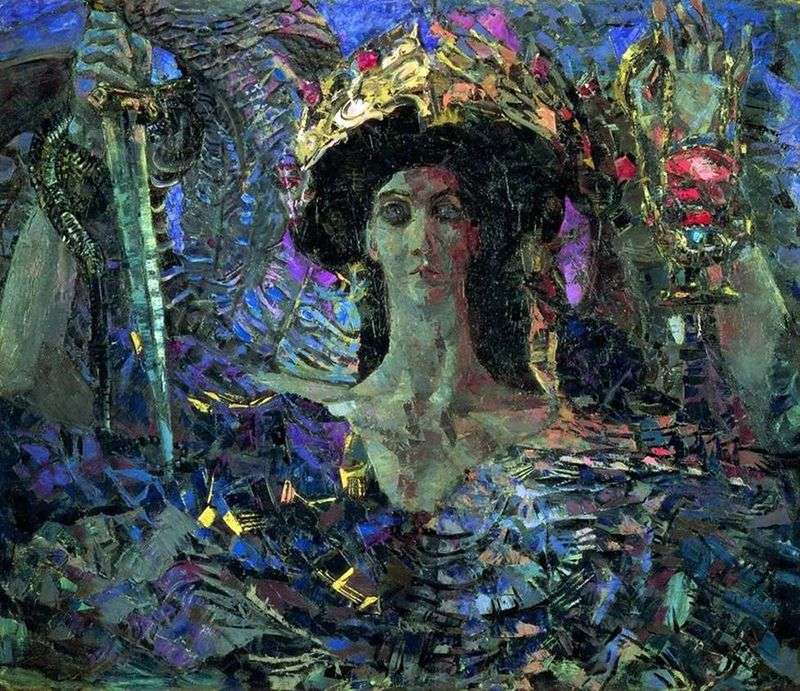 At one time Vrubel was captured by the theme of the "Prophet" – full of high significance, inspired by Pushkin's famous poem:
I languish with spiritual thirst, In the desolate wilderness I dragged myself, – And the six-winged seraph At the crossroads I came.
In 1898 Vrubel made an illustration to the "Prophet" – it was ordered for the anniversary edition of the poet's works. Then the theme "Demon" completely captured the artist, but after his illness he again returned to the "Prophet".
In this oil painting, the six-winged seraph, with a sword and a burning lamp in his hands, appears alone – there is no prophet here, and the painting "Azrael" is called. As in a bright delirious dream, a narrow, serpentlike face of the angel of death arises from the greenish-blue and red-lilac burning streams, on the neck long and straight as a column, framed by black hair, with unseeing huge eyes. This is an expression of an impending, inevitable fate, the face of retribution that this ascended sword and "coal burning with fire" will perform. Strong, formidable work.