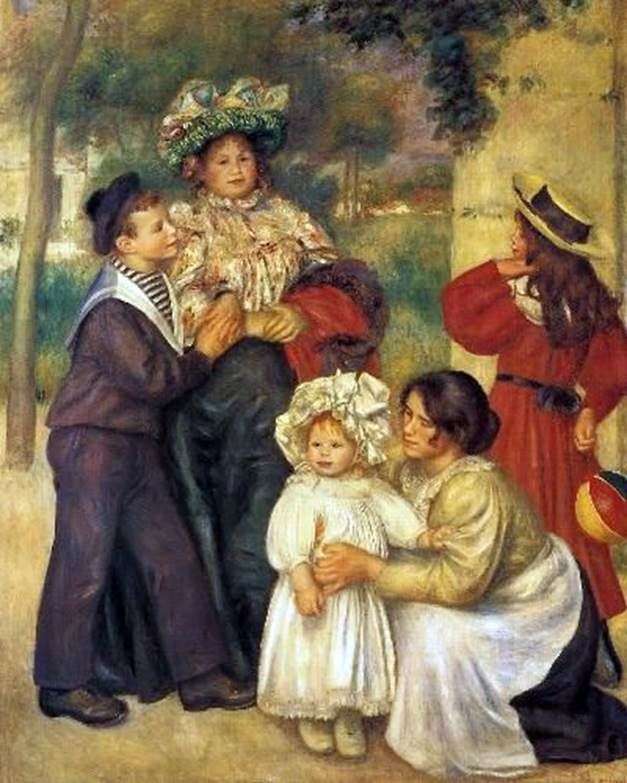 Gabriel Renard is a Frenchwoman who has become an important member of the family of the artist Pierre-Auguste Renoir, the former nanny of the artist's son and often his model. She was a mentor to Jean Renoir, arousing and encouraging his interest in cinema. After marriage in 1921, she began to wear the name Gabriel Renard-Slade. Gabrielle was born in Essois, Department A, her cousin was Alina Quizina Sharigo Renoir, wife of Pierre-Auguste Renoir.
Alina was born in the same village. At sixteen, Gabrielle Renard moved to Paris and settled in Montmartre, lived in the house of Renoir and was the nanny of the artist's children. Gabriel Renard is depicted by Renoir in numerous portraits with his children. There was a close relationship between Gabriel Renard and Jean Renoir, which persisted throughout her life. Gabriel was literally bewitched by a new invention at the time – cinema, and took the minor Jean Renoir to watch movies.
Later, Jean became a famous film director. In the last years of his life, Pierre-Auguste Renoir suffered from severe rheumatoid arthritis, but continued to paint with it. When the family moved to a farm in Cagnes-sur-Mer near the Mediterranean coast in search of more favorable conditions for the patient with arthritis Renoir, Gabrielle moved with them. If he worked in his studio, Gabrielle would help him, putting the hand in his hand so that he could hold it with his fingers injured with arthritis. Engaged in raising children of Renoir, Gabriel did not marry until 1921, until the children became adults. Her husband, Conrad Hensler Slade, was an artist from a wealthy American family.
They had a son named Jean Slade. After the occupation of France by the Germans during World War II, Gabrielle and her family moved to the United States, the homeland of her husband. Jean Renoir also moved to the United States during the war. Being a successful filmmaker, he settled in Hollywood. When Gabrielle's husband died in 1955, she moved to Beverly Hills to be with Jean Renoir. Gabriel Renard-Slade died at her home in Beverly Hills in 1959.
In his memoir, My Life and My Films, Jean Renoir begins and ends his book with a story about Gabrielle Renard, and in his autobiography he emphasizes the profound influence that Gabrielle had on his life. He writes: "She taught me to see a face behind a mask, a fraud after prosperity," and ends the recollection with the words that he often said as a child: "wait for me, Gabriel."