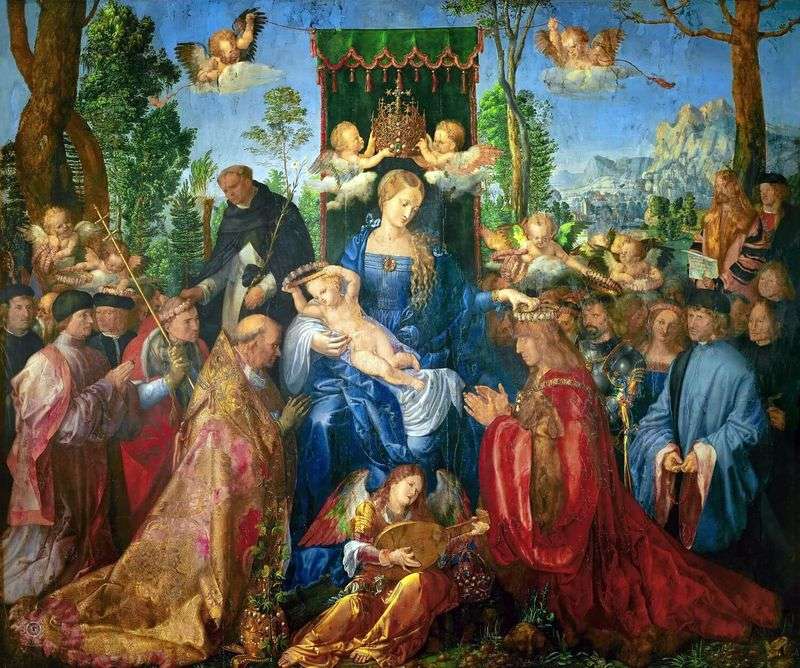 By 1506-1507, the second trip of Durer to Venice was included. Passed A significant way of creative pursuits, a mature artist could now more consciously perceive the impressions of the art of the Italian Renaissance.
The works created by Durer directly after this trip are the only works of the master that are close in their visual techniques to classical Italian models. Such are the peaceful and harmonious two paintings on religious themes – "The Feast of the Beads" and "The Madonna with the Siskin," "The Portrait of the Venetian," and "Adam and Eve."
In the two-meter altar composition "Feast of the beads," he decided on a religious theme, in fact, as a group portrait of numerous donors of various estates, depicted against the background of the sunny mountain scenery at the throne of Mary.
Harmonious balance of the whole, a strict pyramid of figures of the central part brings together the composition with the works of the High Renaissance. The artist reached the unusual for him softness of the picturesque manner, the richness of the nuances of color, the impression of the airiness of the environment. Of the later things, the same features are preserved by the "Madonna and Child".
All these pictures are inherent, in essence, alien to Durer's imaginative calmness, the balance of compositional constructions, the smoothness of rounded contours, the smoothness of the plastic processing of forms.