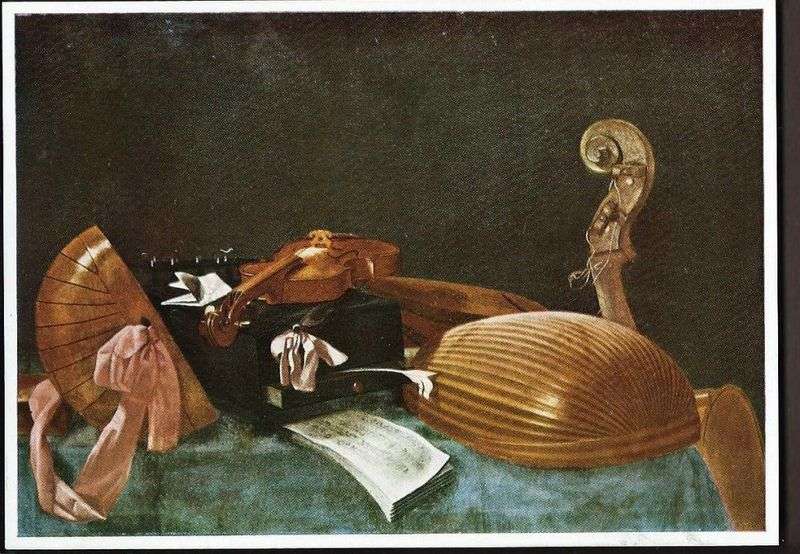 Baskenis – one of the most mysterious Italian artists of the Baroque era. More than 600 still-lifes with musical instruments were written by the master for his creative life.
Changing the composition, light, color, a set of instruments, surrounding the interior, the author seemed to be trying to conquer the music by means of painting, to prove the superiority of the fine arts. With all the variety, the unchanged in the "instrumental" still-lives is the presence in the composition of a black box case with writing accessories, a pen, notes, the absence of strings on the depicted lutes, violas, cellos.
The work, housed in the halls of the Academy of Carrara, is written easily and elegantly. There is a lot of light and air here. A simple, neutral background, devoid of all details and color diversity, concentrates the attention of the public on the collected instruments. Pink ribbons on the head of the neck of the lute and the tip of the bow are added to the work of baroque splendor, although it is inconvenient to play with such ribbons, it is simply impossible. Surprises and the lack of strings on the instruments. No less mysterious is the black box with a musical score. There is no music. She was not yet born. It exists only on the pages covered with musical notation, nobody hears it.
Instruments are devoid of strings, they are silent. But all the details of the still life, collected in one composition, give birth to other music in the imagination of the viewer. It is music of color, light, confident strokes and elusive color. "Instrumental" still lifes of Baskenis can be seen in many museums and galleries of the world. The most famous are in the Academy of Carrara, the Metropolitan Museum, the Scala Theater Museum.