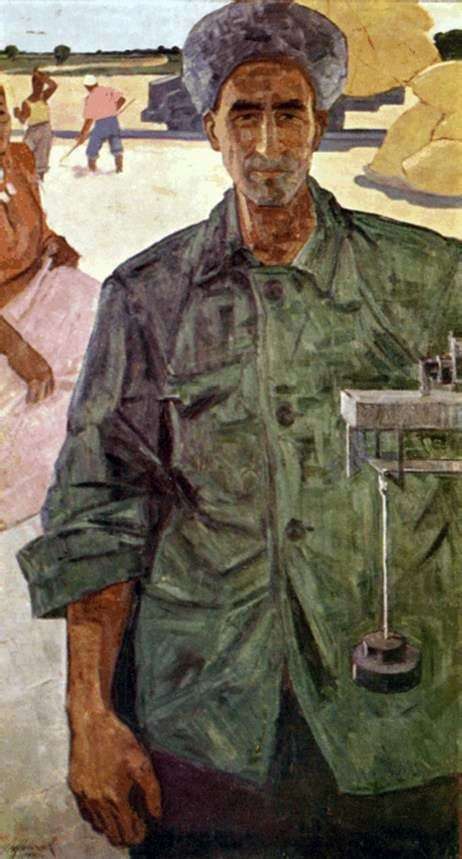 People's Artist of the USSR Izzat Klychev – one of the leading masters of Soviet painting. He seeks to create works of civic sound that can convey the significance of our era, the greatness of the man of labor. The artist's cycle of portraits of Turkmen workers arose on the basis of an in-depth study of life.
Klychev visited the builders of the Karakum Canal, from the stockbreeders of Turkmenistan. "Without studying reality," writes the artist, "without communication with the glorious workers of villages and cities, the appearance of works of truthful, creations of civil sounds, illuminated by thought, imbued with great feeling, is impossible." Thus, having spent nearly a month in the brigade of the famous cotton-grower Yazmurad Orazsakhatov, Klychev captured the face of a man who was closely connected with the very process of labor, with his native land. He portrayed Orazsakhatov directly in the field, at the scales. The sunny landscape of Turkmenistan, figures of people working in the distance, give the portrait a spontaneity.
In the Soviet painting of the turn of the 1950's and 1960's, artists sought to show life without embellishment, to the image of everyday work. At the same time, they, avoiding small things, ordinary life, take the path of searching for monumentality, the significance of the image, which sometimes gives rise to accentuated enlarged forms. All these features can be noted in the portraits of Klychev.
A pupil of the Leningrad Art Institute. I. Repin, an artist who knows and deeply respects Russian art, Izzat Klychev has strong ties with the national Turkmen culture. He lives and works in Ashgabat, conducts great teaching work. The creativity of the Turkmen artist organically entered the multinational Soviet art. Works created Klychevym, took an honorable place in the collections of the largest museums in the country.