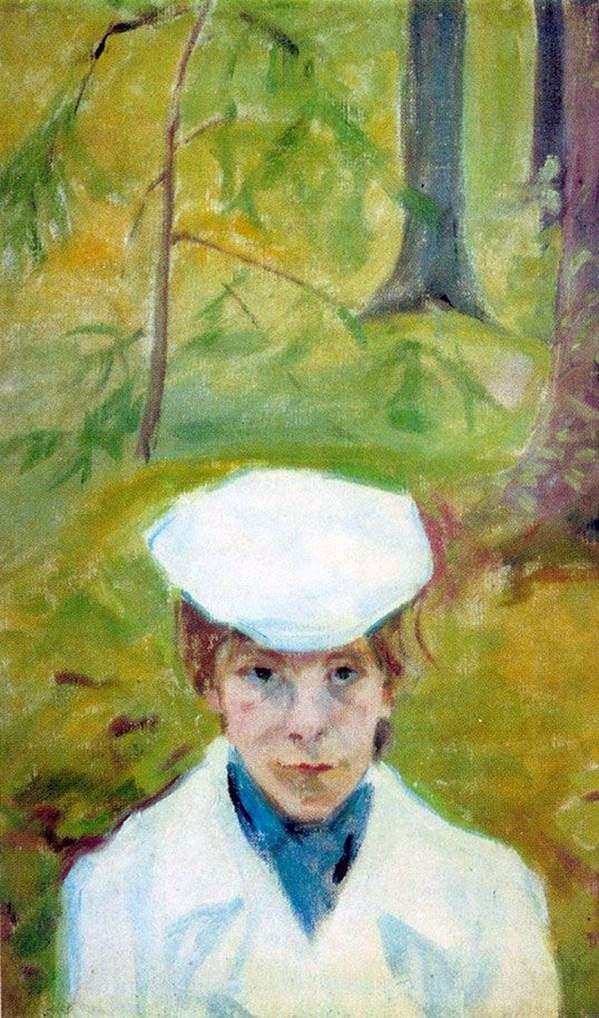 The main part of the works of Mikhail Matyushin are abstract, non-objective compositions that at first glance are completely unrelated to life. But in his creative legacy there are also other, quite realistic pictures, the "realism" of which is presented to the viewer in a peculiar painting style characteristic of the artist. Among them – "Portrait of E. G. Guro".
E. Guro – a close friend, soul mate and beloved wife of the artist. Matyushin depicted her fragile figure in white clothes against a forest landscape. Compositional construction divides the picture into two equal
halves. The upper part is set aside for nature, the bottom captures the image of E. Guro in perspective from the top point of view.
Nature and the feminine image are made in soft pastel colors and, in general, the style of the painting resembles the work of the Impressionists.
Matyushin wrote a portrait of his wife three years before, exhausted by a serious illness, Elena left this world. Therefore, her face is so pale and serious. She feels hopeless, and a smile does not touch her lips. The artist tries to hide the anxious feelings behind the joyful colors of the picture – blue, ocher, white and green. But sadness and longing remain the defining mood of the portrait.