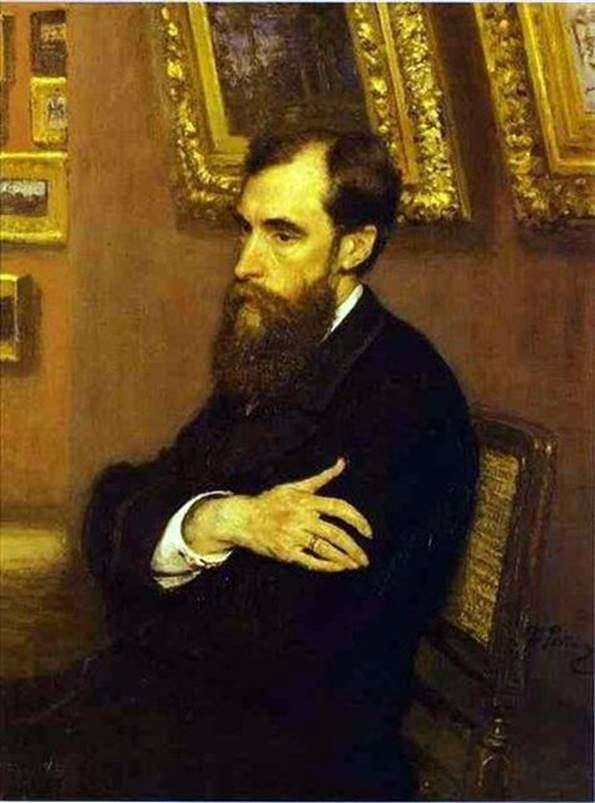 Pavel Mikhailovich Tretyakov is the founder of an art gallery, patron of arts, a successful entrepreneur. Many artists liked to communicate with him, he was a wonderful kind and modest and sympathetic person.
Creating an art gallery was the main business of his life, while he himself tried to remain in the shadows. In 1883, the Russian painter Ilya Repin painted a portrait of Tretyakov. Repin was friends with Tretyakov and often received orders for portraits and paintings from him.
The artist has long offered the entrepreneur to write his portrait, but Pavel refused, did not want his portrait hung
in the gallery to see the audience. And yet the portrait was painted. Repin conveyed not only the portrait likeness, but also the deep, complex character of a person.
Pavel Mikhailovich is depicted sitting on a chair, in the background of his gallery. His look is serious and thoughtful. He looks pensively away with a sad look. High forehead, well-groomed beard, smooth nose, dark eyes convey the features of aristocracy.
Repin expressively noticed the hand of the patron of the arts with slender fingers, on one of which a wedding ring shines. Repin conveyed the spiritual image of a man who is able to think philosophically and endowed with talent to understand and appreciate art. Coloring picture is not of particular interest. After all, the main goal was to portray the portrait likeness and character of the patron. The portrait is a significant work of the artist and was appreciated by both his contemporaries and new generations of spectators.