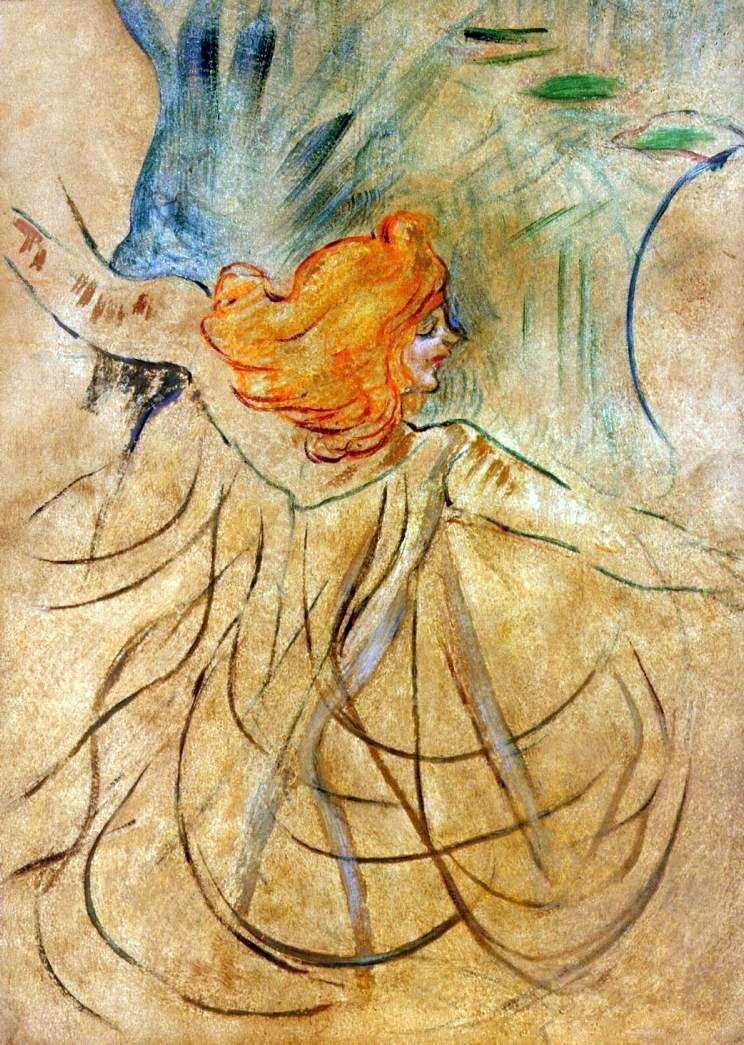 Montmartre really attracted less and less Lautrec. Now he was in various parts of Paris. In the autumn he took his friends to the Folies-Berger, where American dancer Loy Füller performed with great success. With great success? Perhaps, this is said modestly: the dances created by her enjoyed simply a frenzied success. The hall was plunged into total darkness when Loy Füller appeared on the stage in the multicolored beams of searchlights in a wide gas or muslin swaying dress. What ease of movement, what arabesques, pirouettes! What a brilliant dance! She fluttered around the stage, resembling a giant fire flower, a butterfly with motley wings.
Like many artists, the dancer completely conquered Lautrec. "She is the real Nika of Samothrace!" he said in delight. Without delay, he made several sketches on the cardboard with this "nymph of glowing fountains," then he dedicated her a black and white lithograph, each print of which he colored and powdered with gold.
Soon one more spectacle attracted the attention of Lautrec: "The Chapel of Daddy's Ballet", a fantasy in the Japanese spirit, which was staged in November by the "New Circus", located in the center of Paris, on Saint-Honore Street. The "new circus", founded by Oller in 1886, was the place where the whole "elegant public" flocked, and, according to the serious newspaper "Magazine de Debba", was the "eighth wonder of the world." This circus a year ago gave Lautrec the theme for a magnificent, very peculiar picture on the cardboard "Woman-clown with five plastrons." But especially liked Lautrec "Ballet daddy Chrysanthemums."
The Arena of the "New Circus" thanks to the ingenious device easily turned into a pool, which was decorated in the form of a lake. Lilies and lotuses swam there. Dancers, dressed like Loy Füller, in transparent dresses, with spectacular play of light, led by the Fairy of the lake, moved along the shore and hid in the reeds. This ballet inspired Lautrec to two paintings.