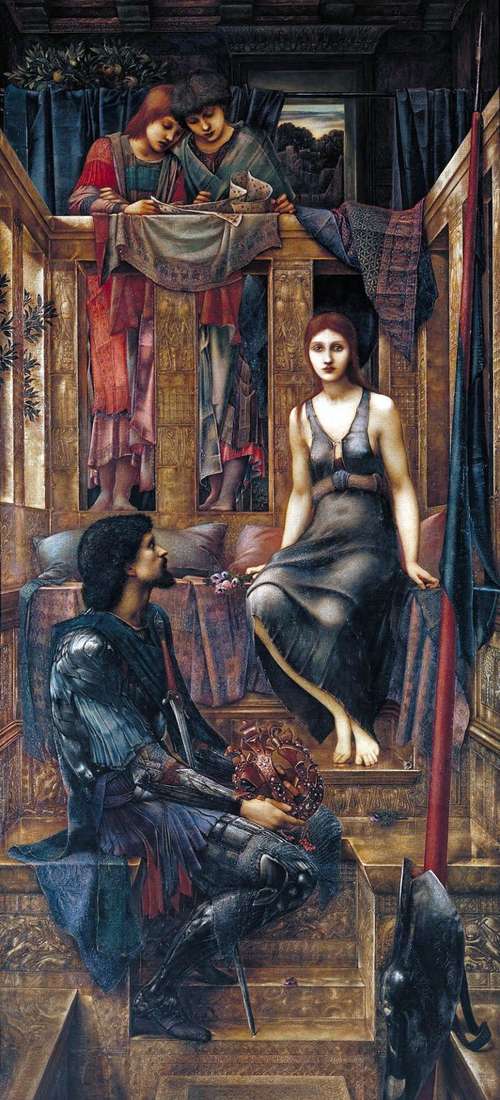 The creation of the Pre-Raphaelites, to the Brotherhood of which Edward Bern-Jones belonged, is closely connected with literature, with the works of the Italian Renaissance poet Dante Alighieri, the English poets William Shakespeare and John Milton, long forgotten medieval legends and ballads with noble worship to the beautiful lady, the selfless courage of knights and wisdom of wizards. Bern-Jones did not want the picture to be related to any particular time or place, but with an imaginary world.
The picture embodies many ideals of Pre-Raphaelites – chivalry, beauty, romanticism and the search for perfect love. The artist made many sketches for this picture, the plot of which he was very keen. Its content is the story of a king who fell in love with a humble beggar girl, whose charm and virtue were more precious to him than the kingdom. This story is typical of the Victorian era, placing a virtuous woman above the earth's wealth.
The plot of the picture is taken from a poem written in 1612. The poem tells a story about the king of Africa, whose aversion to women was defeated by a beautiful beggar girl. The composition was inspired by Grevillely and the images of "Madonna della Victoria" Mantegna. When the painting was exhibited in Paris, the poets of decadence evoked delight, especially the girl's legs: "ivory blood". It's interesting to note that Bern Jones, who possessed wit and a special sense of humor, created a caricature of this painting, as if it had been written by Rubens from a lascivious model, unlike the thin as a girl's reed from his original painting.