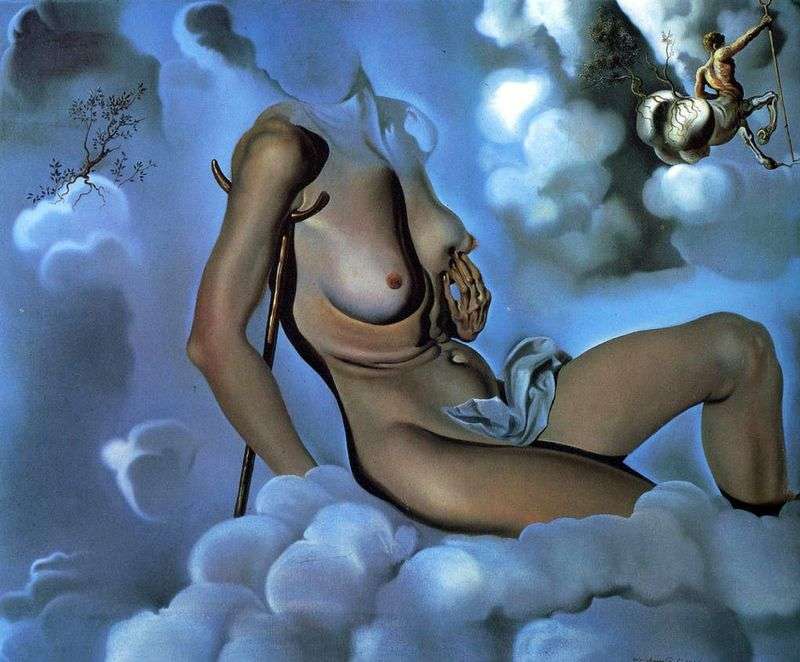 On this canvas, Dali portrayed a naked woman sitting on the clouds. Her hips are covered with a crumpled cloth flap. The woman's face is hidden by a swirling cloud. With one hand she touches her naked breast, the other supports the spear-support, the constant attribute of Dali's paintings.
The clouds swirl, gathering in storm clouds. They are dense, substantial and resemble clods of cotton. On one cloud flaunts a short, twisted sapling, clinging to it with its roots. In another cloud, the centaur prances. Its croup also grew overgrown with trees. He thrusts a spear into the cloud with the gesture
of St. George, defeating the serpent.
The phrase "Honey sweeter than blood" the artist borrowed from some fisherman Lydia, which rumor called the last witch Cadaques. This metaphor means that the call of the flesh is often more important to people than the bonds of kinship. Dali has two pictures with this name. They are not related to each other either in plot or stylistic terms.