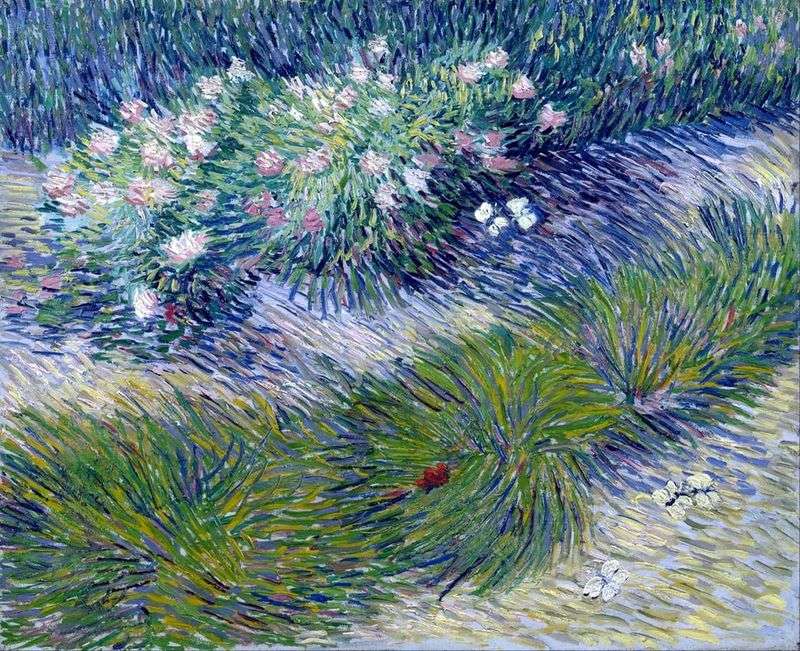 In the work of Van Gogh, there have been several works, where all attention is paid to one small detail, without elaboration and a certain composition. Such scenes could seem insignificant from the point of view of classical art, but after passing through the filter of the artist's extraordinary perception, they filled with meaning and became a means of expressing the strongest feelings and emotions.
An example is this work, where in the field of view of the artist gets a few beams of garden grass and flying butterflies above them. Two even rows of planted flowers and grass attract attention in the first place. They are written out with long strokes, the dynamics of which seem to echo the light quick movements of butterflies. Butterflies are almost lost on the background of the earth and greenery, and their imperceptibility only strengthens the impression of light carelessness, which imbued this picture.
The artist admires the pure shades of wildlife, he exaggerates them, turning the picture into a "dance" of colorful strokes of the purest paint. Drawing grass and earth, Van Gogh leaves from their primary color, but maximizes the nuances. Shades of ultramarine, he transmits the airiness of the landscape. Despite the coldness of the basic color scheme, the artist was very good at conveying the bright sunlight, which flooded a small but charming plot of land.