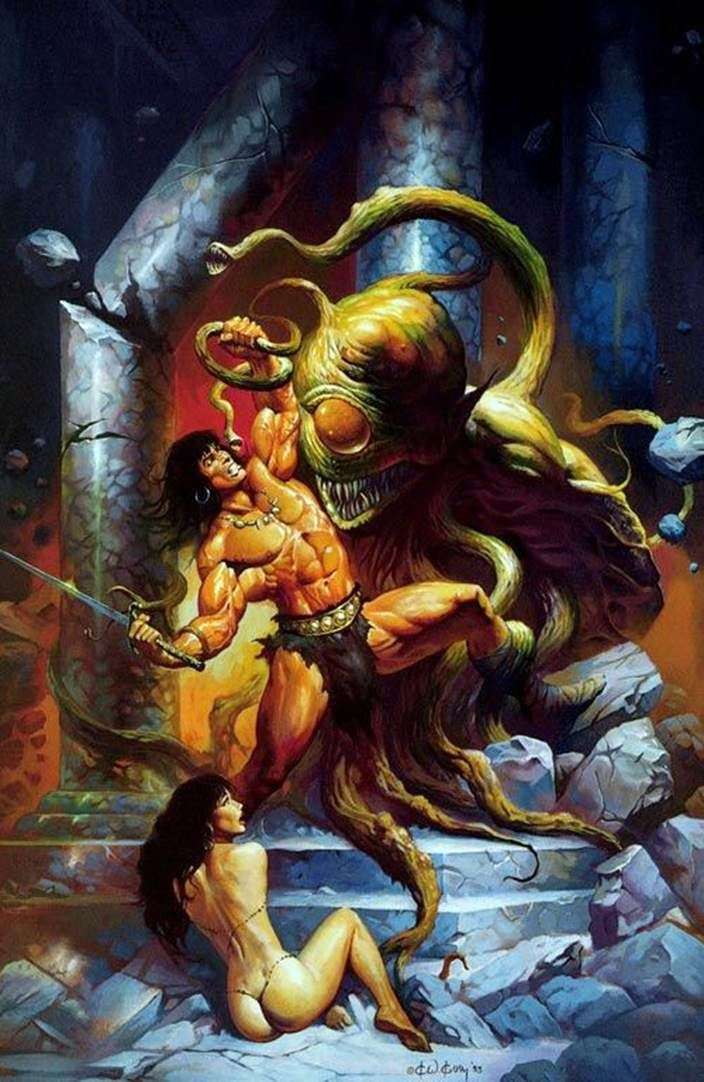 In 1968, Ken Kelly completed four years of service in the Marines and returned home to New York. And again he plunged into the magic realm of fantasy art. A year later, Ken decided to go to the studio of Frank Frazetta and show him some of his drawings.
Frazete liked Ken's work and he supported the intention of the young talent to pursue a career in applied art. Frazetta also invited Ken Kelly to study in his studio under his direct supervision. Ken gladly accepted Frank's offer.
Under the guidance of the master of painting fantasy Ken honed his skills and perfected, as a fantasy artist.
Frazetta taught Ken how to transform his feelings into a work of painting, how to transfer to the canvas formed in the imagination of the plot. The words of the teacher sank deep into the heart of Ken Kelly and he carried them through his whole life because for a creative person the fire of the soul is immeasurably more important than cold mastery.
In the picture of Ken Kelly "Conan and the Monster" a brave warrior defeats the monster and saves the defenseless girl from imminent death. Legendary Conan once again appears before us as a fearless hero in the face of any danger. One-eyed monster that easily destroys stone columns, will perish at the hands of the unconquerable Conan Varvara.