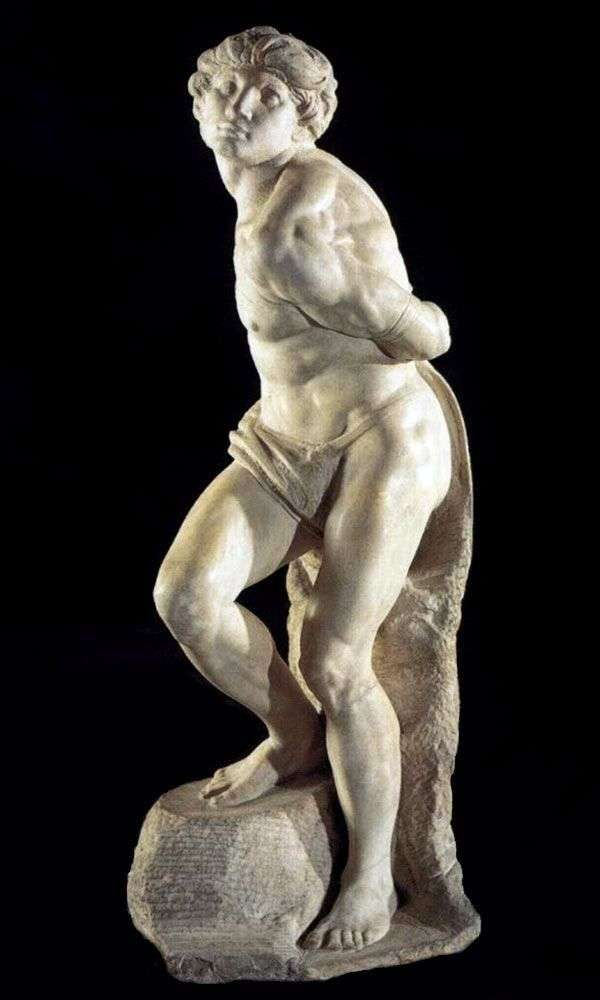 Sculpture of Michelangelo Buonarroti "Bound Slave". The height of the sculpture is 229 cm, marble. In the second decade of the 16th century, the main theme in the work of Michelangelo became the expression of the idea of an insoluble conflict between a man and forces hostile to him, and therefore the respective changes occur in the sculptor's creative method.
Before that, Michelangelo applied one basic point of view on a statue or a group that most fully expressed a figurative concept. Now the master goes on to show the image in its formation, change, which is achieved by introducing complex
motives of movement, calculated on several aspects of vision, replacing each other in the process of perception and in the totality of the components of a complete multidimensional image.
So, bypassing the statue "The Chained Slave" from right to left, the viewer at first feels the impotence of the body, maintaining an upright position only because it is chained; the movement of the head thrown back expresses agonizing suffering. But as the "Bound Slave" sculpture continues, the viewer notices how the body begins to grow stronger, build strength, muscles grow, tense up, and finally, the tension reaches its limit – we are no longer a prisoner, impotently shackled, and a mighty hero the prime of life; in the powerful movement of his raised head a proud challenge is guessed.
The power of the captive is so great, the effort he makes is so significant that the ties that bind him seem to be inevitably broken. But this is not happening. Continuing to move to the left, the viewer notices that the tension weakens, the muscles lose strength, and the expression of hopeless suffering prevails.