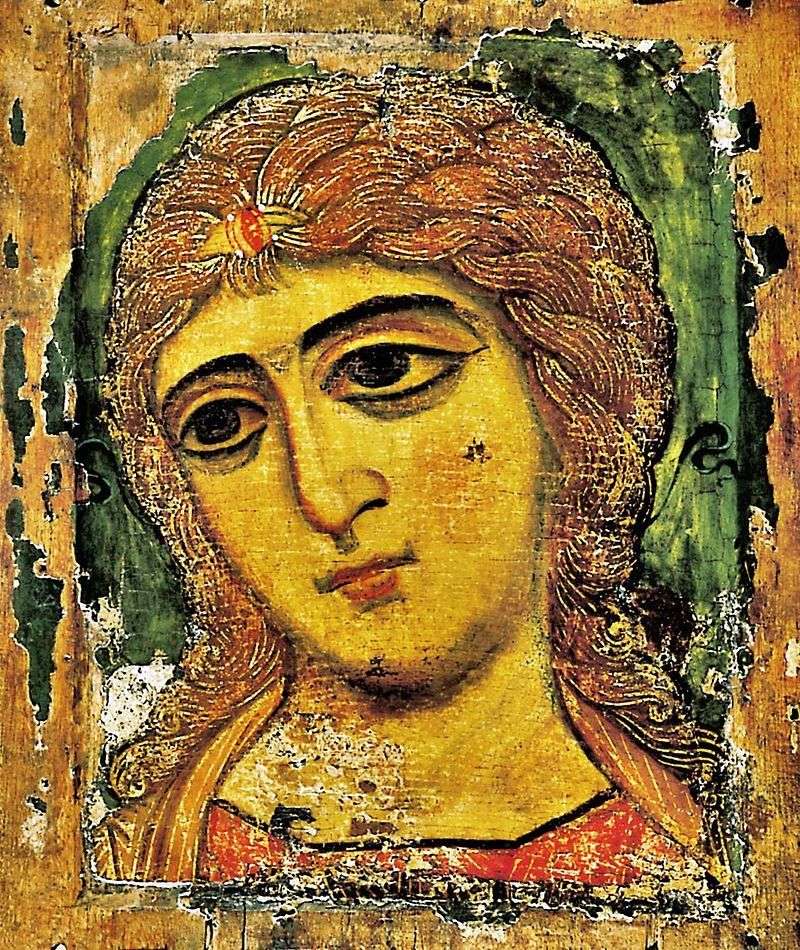 Archangel Gabriel, from the main Deesis Tier XII century. Wood, pavoloka, gesso, egg tempera. 48,8 х 38,8 х 2,8 The oldest icon in the collection of the Russian Museum, one of the most striking monuments of pre-Mongolian time. The icon was found in a vault located on the Ivan the Great Bell Tower in the Moscow Kremlin. Initially she could be in one of the ancient temples of Novgorod or Vladimir, where she was placed on a low altar barrier that separated the eastern part of the temple from its central space.
The icon was created in the XII century and is closely connected with the artistic culture of Byzantium. This is evidenced by the eastern type of the face of the angel, the almond-shaped section of his eyes. Spirituality of the image gives a slight inclination of the head, full of reverie and sadness eyes of wide-open eyes. In these wonderful eyes the whole spiritual depth, emotionality and contemplation of the image are concentrated. In the icon is found a measure of harmony and perfection which is accessible only to the great masters.
A subtle personal letter with soft transitions from light to shadow, the picturesque nature of the texture goes back to the Hellenistic traditions, which throughout the Middle Ages were preserved and lived in the art of Byzantium. The second name is "The Angel of the Golden Vlasas" received from the golden cuts on the hair of the archangel, which appeared with one of the later restorations of the icon. Fast. in 1934 from the State Tretyakov Gallery; earlier – in the Moscow Public and Rumyantsev Museum.