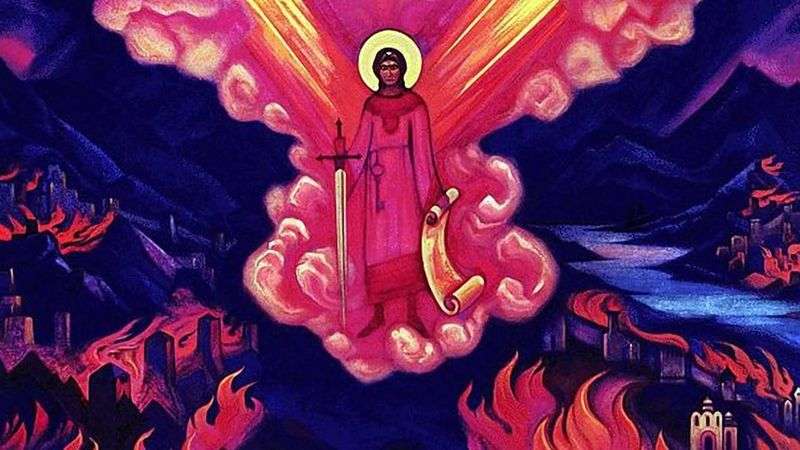 Nicholas Roerich felt his era as an era of radical historical change. In the art of Nikolai Konstantinovich before the war of 1914, the theme of retribution sounded with particular force, which was first revealed in the painting The Last Angel. Above the earth enveloped in flames, in the crimson clouds there is an apocalyptic angel rewarding for all the evil that has been done, and on the distant horizon, sparkling lightning as if notifies of a new life on a cleansed planet.
This work of Roerich is distinguished by intense emotionality, the use of a large number of expressive means, including contour drawing
and local contrasting tones. The last angel also has a complicated allegorism of the concept.
Almost simultaneously with the painting "The Last Angel", the canvas "Sword of Courage" appears. The angel brought the sword asleep at the gate of the castle guard. The time has come fully armed to meet the enemy.
In 1914, Roerich created the poster "The Enemy of the Human Race", in which he stigmatizes the barbaric destruction of cultural monuments in Louvain, Shantinyi, Reims. The poster was sent to the armies and military zones. The artist appealed to the high command of the Russian army and the governments of France and the United States with a proposal to ensure the preservation of the cultural heritage of the peoples in wartime by an appropriate agreement between the countries.
Nikolai Konstantinovich was an international figure. In search of a synthesis of the best conquests of Russian, Western European and Eastern thought, Roerich remained Russian according to the mindset, ideals that had developed in his homeland and which he carried through his whole life.