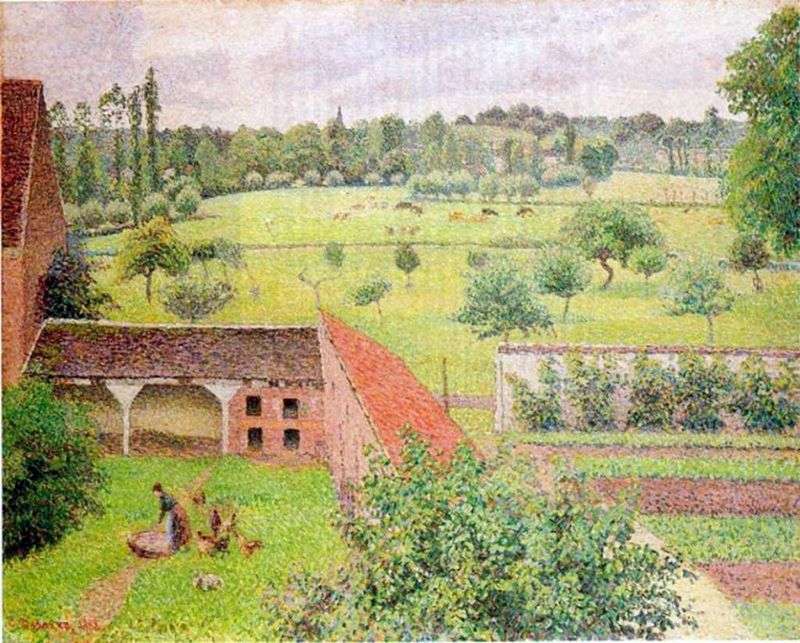 The Eighth Impressionist Exhibition, held in 1886, was the last meeting of artists of this genre, and the painters understood that the differences among them had reached their apogee.
Pissarro, who took part in it, put his picture "View from my window." The canvas was exhibited in a separate room, and sided with the work of Signac and Seura, which was to emphasize the author's commitment to neo-impressionism – a direction that had just begun to take root in the painting world.
Pissarro created a canvas using divisionism techniques and, in the opinion of the critic Revald, spots
of various colors formed from small round strokes corresponded to certain elements, such as light, color, and shadow. When considering the picture, the connection of all the elements occurred in front of the viewer.
In the work, Pissarro's cardinal departure from impressionism, endowed with his individual author's details, can be traced, but experts also noticed that the artist became as close as possible to the painting of Sulfur. Where did his instinctive gift feel the nature.
The work represents one of the few paintings of a strictly pointivist direction; this method will not bring him satisfaction, and he will soon return to his old impressionistic style.