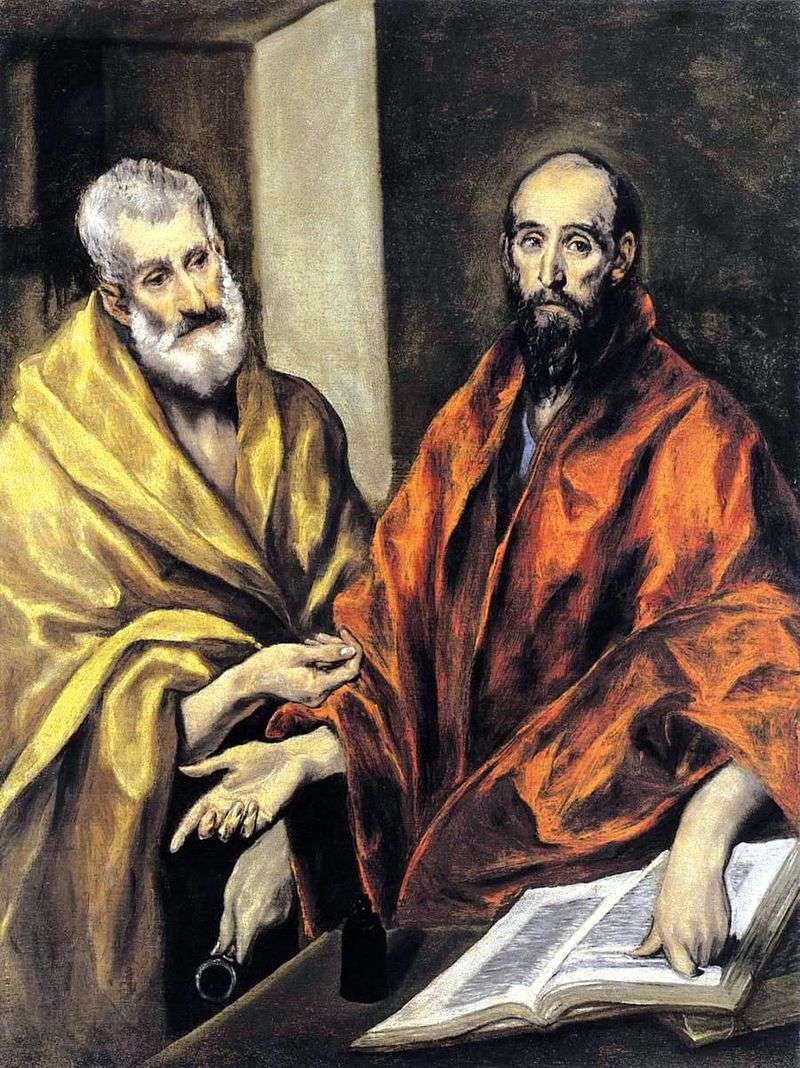 El Greco – the author of new, unknown before him in Spain, the church cycles "apostolados." Close to them is the Hermitage painting "The Apostles Peter and Paul."
The comparison in one work of Peter and Paul was of special interest to the artist. According to the sacred scripture, before the adoption of Christianity, Paul furiously pursued the followers of this faith, but, having become attached to it, became a fanatical champion of it. On the contrary, the apostle Peter, one of the closest disciples of Christ, was not distinguished by consistency and strength of mind. He sometimes
hesitated, betrayed Christianity, but, repentant, again returned to him.
In the picture of El Greco, the central place is given to Paul. He is depicted at the time of the sermon, leaning on the book with his hand. His figure is not only a frontal arrangement, but also color. The dark red cape of a saint with heavy, widely folded folds is the main colorful accent.
The head of the apostle is beautifully written: the outline is outlined strongly and vigorously, the volumes of the skull, cheekbones and nose are clearly worked out. Dark, burning eyes make the face particularly expressive. Paul is interpreted by a strong and convinced man. Next to him Peter looks weak, helpless. His senile gray head bent, in the expression of his face a plea for forgiveness is read.
The apostles of El Greco are far from the canonical images of saints accepted by the official church. They are written in a wide, free, temperamental manner, unusual for Spain of the XVI century and therefore seemingly bold. When you look at this work, it becomes clear why the Spanish king rejected a talented master: the saints depicted by them do not cause a desire to pray.