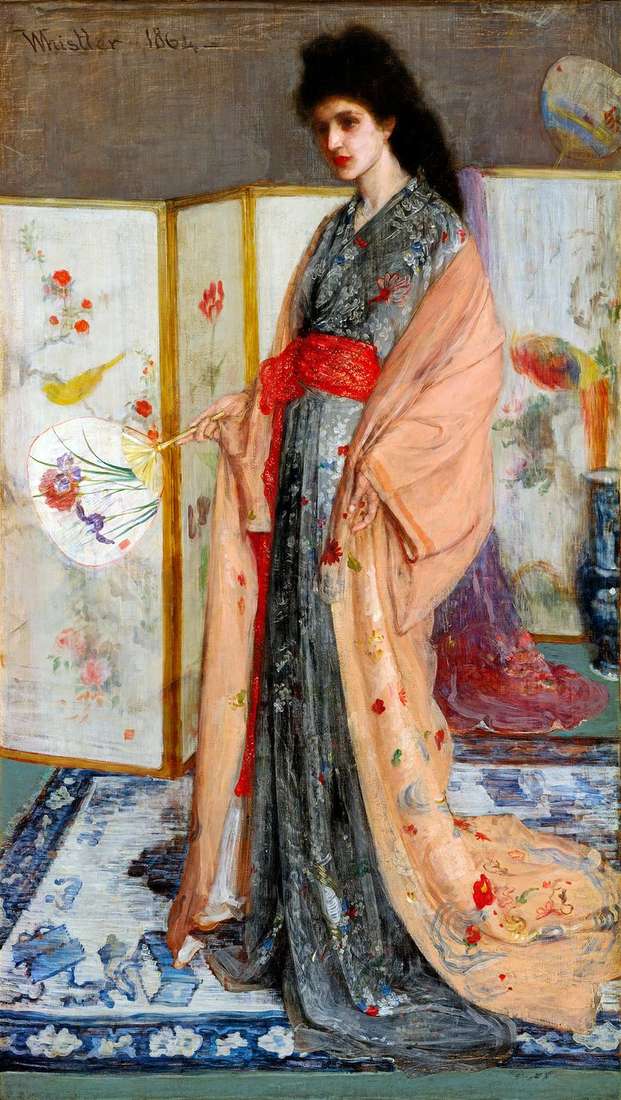 In the second half of the XIX century, Europe discovered the Japanese culture. The art of the East becomes fashionable, raises enthusiasm and evokes enthusiasm. In Paris and London, there are specialized stores of works of Oriental art. Whistler admires the orientalist aesthetics and becomes a regular customer of the Parisian boutique "The Chinese Gate".
His house collection is quickly replenished with new items from porcelain, fans and silk things. Also, Whistler has many albums with graphics, several color posters and two painted screens. Japanese props, which we see in the picture "Princess of the Country of Porcelain," probably consists of things belonging to the author of the canvas.
The painting is very popular at the Salon of 1865. Her composition is very typical for English painting of that era. However, the use of elements of oriental decorative art distinguishes this picture from the work of academic artists who wrote in the style of neoclassicism and who preferred scenes with frozen in pathetic poses characters dressed in Roman togas.
For the "Princess of the Country of Porcelain" is characterized by natural simplicity and unobtrusiveness in the image of exotic for European culture things. In a manner of execution, the painting resembles the canvases of realists, although the character's original charm is more associated with the Pre-Raphaelite models. One of the critics emphasized that it "shines from within, like a heavenly creature, which, thanks to imagination, can be seen in the clouds."