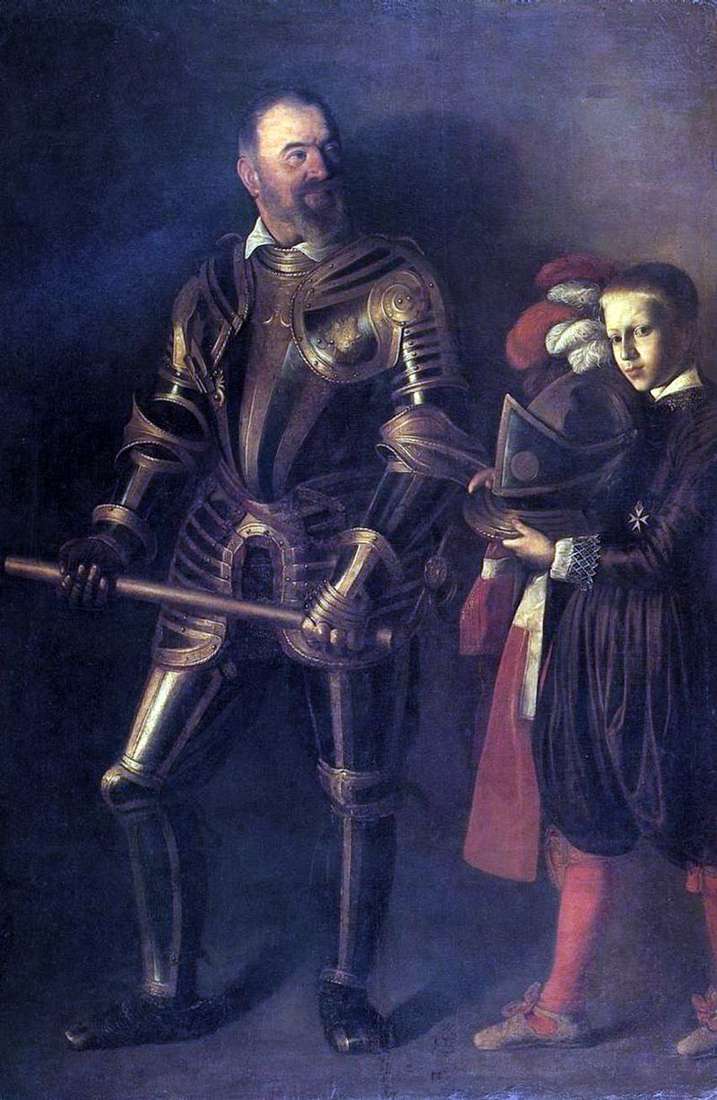 Painting of the Italian painter Caravaggio "Alof de Viñacurth." The size of the portrait is 195 x 134 cm, canvas, oil. Alof de Viñacurth was accepted into the knights of the Order of the Hospitallers of Malta in 1564, at the age of seventeen, and showed himself already the following year during the siege of Malta, when the Turks took over the greater part of the island.
In 1601, Alof de Viñakurth was elected Grandmaster of the Order. He showed himself as a talented leader and fortificator, it is known that during his reign, many coastal fortifications were built, as well as an aqueduct that delivered water from a plateau above Rabat to the capital of Malta, La Vallette.
Fra Alof de Viñacurth retained the title of Grand Master of the Order of the Hospitaller of St. John from 1601 to 1622 until his death. Alof de Viñacurth, in addition to strengthening the defensive lines of La Valletta, as the master of the order, was determined to decisively strengthen and elevate the prestige of the Knights Hospitaller Order. Therefore it is not surprising that he was glad to welcome in his possessions the most famous painter of Rome and Naples in those years Michelangelo and Caravaggio.
Caravaggio arrived in Malta from Naples in July 1607, and, according to his biographers Giovanni Ballione and Giovanni Belori, began to work immediately with the writing of portraits of Viñakurta and other noble knights of the Order of the Hospitallers of Malta. In this famous portrait of Caravaggio, the Master of Alof de Viñacurta depicted in ceremonial knight armor holding the scepter of the Order.
The armor of Alof de Viñakurta has survived to the present day and is one of the treasures of the arms gallery of the Palace in La Valletta. The vivid expression on the face of the squire boy and his gaze on the painting by Michelangelo and Caravaggio turned out to be so attractive that this picture was then copied several times by artists who visited Malta in later times.