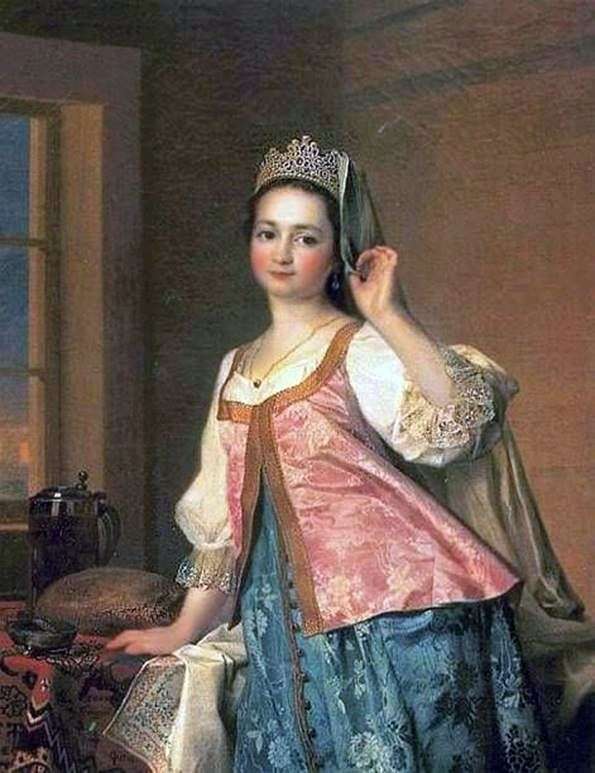 Levitsky was a wonderful master of both ceremonial and intimate portrait. His brilliant abilities allowed him to enrich the artistic traditions established in the 18th century with new creative findings. The creation in 1785 of the portrait of the daughter of the Agash is possibly connected with her marriage. Wanting to lift the image above the ordinary, as if to give it greater significance, the artist chose the form of the generation of the parade portrait, but unexpectedly changed the accessories.
Agasha, dressed in a wedding dress of the Russian North, and a kokoshnik, is placed in the interior of a peasant hut, next to a table covered with a carpet tablecloth, on it are bread, salt in an elegant saltcellar and a cup with a drink prepared for dear guests. The young girl is represented by a kind-hearted mistress, her face radiates kindness, attracts with a tender smile. This pictorial image echoes the images of the Derzhavin poems, glorifying the delights of home simplicity of Russian life, its hospitality and cordiality, as truly national qualities.
The Russian outfit of Agashi is quite appropriate here, although the painter presented it in a refined way: the deep open gate allows you to admire the beauty of the shoulders, the sleeves of the shirt are sheathed with thin overseas lace, the sundress and warm jacket are made of expensive silk fabric. Levitsky carefully and skillfully conveys the material beauty, the texture of objects. In the portrait of his daughter, he demonstrates his mastery of the painter of the classical era and, as a member of the Derzhavin's circle, sings the simplicity and naturalness of the folk Russian customs. Agatha Dmitrievna Levitskaya – Agasha, the daughter of the artist.
In 1785 she married the "Senate printing house of the director's assistant to the collegiate secretary Alexander Matveyev." In 1788, A. M. Andreev had the rank of collegiate assessor. In 1805, Levitsky's son-in-law died, leaving his wife and children in the care of the artist.