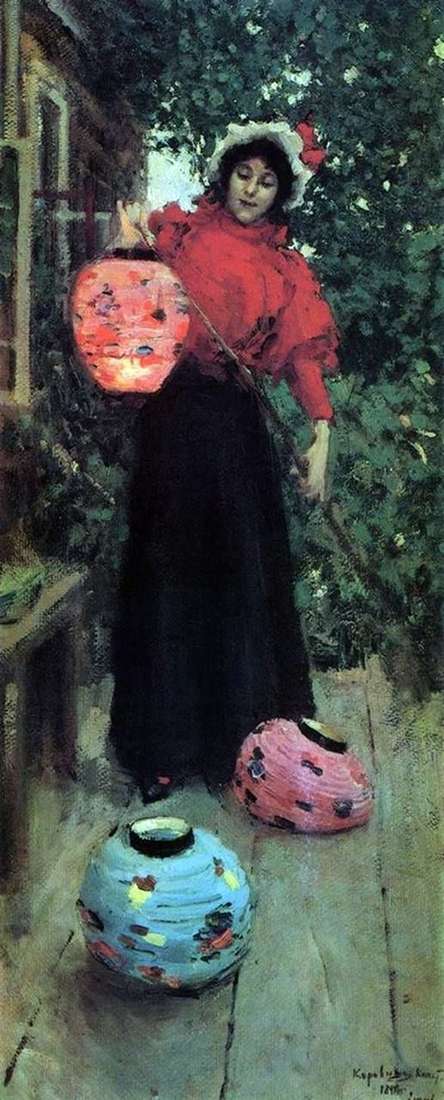 In the late 1890's. Korovin continued to work on the sets for performances, in particular, he helped to arrange the staging of the operas of Gluck and Rimsky-Korsakov. It is not surprising that some of the techniques used to create stage scenery began to leak into the easel painting of Korovin. And if the first such borrowings were associated with the flatness of the image of the figures, then later they appeared in deliberate decorativeness. A vivid example of this is the canvas "Paper Lanterns".
The picture represents a young woman with bright round paper lanterns. It is believed that
the role of the model was made by Korovin's future wife – Anna Yakovlevna Fidler.
In this work, the painter posed a number of specific tasks. Korovin decided to combine in the picture two sources of light – natural and artificial, and very original, in the form of paper lanterns. That is why the figure of the girl he pushed back into the picture, giving the first plan to the lanterns. Bright beautiful lanterns with a capricious ornament in coloristic terms resonate with the clothes of the girl, thus creating a balanced harmonious composition.
The picture is as if woven from contrasting color combinations – dark green foliage, pale blue sky, black heroine skirt and bright voluminous lanterns. Undoubtedly, this is an eloquent evidence of the progressive style of the master. Hitherto quiet colors with a dynamic texture, it changes to a contrasting decorative palette, thus making another step towards impressionism. Impressionism Russian, "Korovinsky", quite unlike the French manner.
It is noteworthy that even today this picture does not cease to be a landmark for the entire work of Korovin. So, when holding a solo exhibition in 2012, timed to the 150th anniversary of the birth of a remarkable painter, this particular work was chosen as the visiting card of the whole event, and this is more than logical. The exhibition was called "Painting, Theater" and no other robot Korovin does not reconcile these two concepts so eloquently.