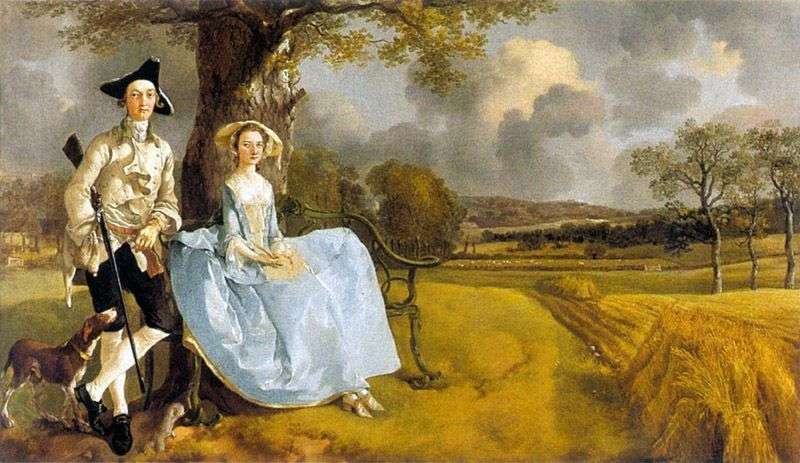 Sir Robert Andrews and Francis Carter were married in November 1748 and this portrait was written in honor of this event. A young couple is written against the background of a low-key landscape, in the distance their estate extends. It is a warm autumn day, the bread is cleaned and is already tied up in sheaves.
The husband and the dog returned from hunting, they were met by a young wife, and they decided to rest near their estate. The young spouse settled down on a bench, widely spreading a light lush, satin-laced dress, from under which light shoes can be seen.
The expression of the wife's
face is excessively strict, maybe she has not yet become accustomed to such responsibility at her age of 18 – to be a wife and is afraid to look frivolous. even in front of the artist. For paintings Gainsborough is very characteristic of the union of man and nature.
As a rule, in his landscapes usually there are people, and also invariably there are dogs, emphasizing, as a rule, the status of a person. And here next to Robert – a thoroughbred hunting dog. The picture is full of subtle lyrical mood.
The painting is painted in soft, pastel colors. It should nevertheless be said that at first the artist conceived the idea to write in the hands of Lady Andrews the feather of the pheasant. which the owner brought from the hunt, and put the most bloodstained pheasant on a napkin, on expensive exquisite dress Francis. This artist transparently hinted at the bloodthirstiness of the ruling class. But still to fulfill the conceived Gainsborough did not dare.