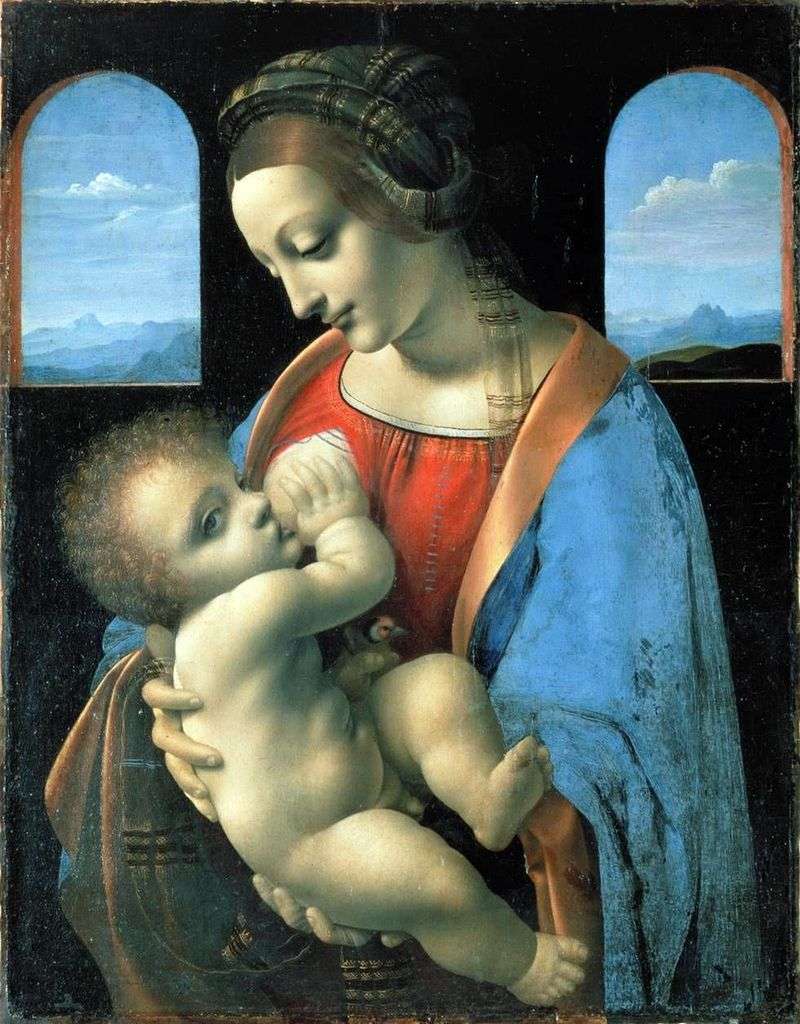 Picture "Madonna of Litta" artist Leonardo da Vinci wrote in the early 90's of the 15th century. The size of the picture is 42 x 33 cm, wood, tempera. In the painting "Madonna Litta" – in the work of the Italian painter of a different, more chamber character than the early works, the elements of the new art of the High Renaissance were clearly expressed.
The general idea of the painting goes back, undoubtedly, to the master himself, which is confirmed by his own hand drawing of the female head for the head of the Madonna, kept in the Louvre, and the special beauty of the compositional solution, which in those years was inaccessible to anyone except Leonardo da Vinci. However, the picturesque performance of the painting is less perfect. This is due, apparently, to the fact that the work on the painting involved a student of Leonardo Ambrogio de Predis.
The painting "Madonna Litta" by its type suggests a comparison with "Madonna with a flower", in comparison with which the decisive qualitative leap that has occurred in the work of Leonardo da Vinci becomes especially clear. The composition of the painting is remarkable in its striking clarity and perfection.
It is enough to pay attention to how beautifully generalized and at the same time the living silhouette of the figure of the Madonna is combined with the geometrically strict outlines of two symmetrically arranged window openings or as accurately accurate, but at the same time its head is naturally placed in the space between these windows. The soft molding of her face wins from a contrasting neighborhood with a blue sky visible in the gleam of the windows. The sense of joy of motherhood in the picture "Madonna Litta" deepened due to the richness of the very image of Mary – it found its mature expression of the type of Leonard's feminine beauty. The delicate, beautiful face of the Madonna is given a special spirituality by half-closed eyes and a subtle smile-it seems that she is smiling at her dreams.
The painting "Madonna Litta" is written by the artist not with oil, but with tempera – her best preservation is probably explained by the somewhat more intense, than usual Leonardo, color accord of the blue cloak lined with golden lining and the rich red dress of the Madonna.