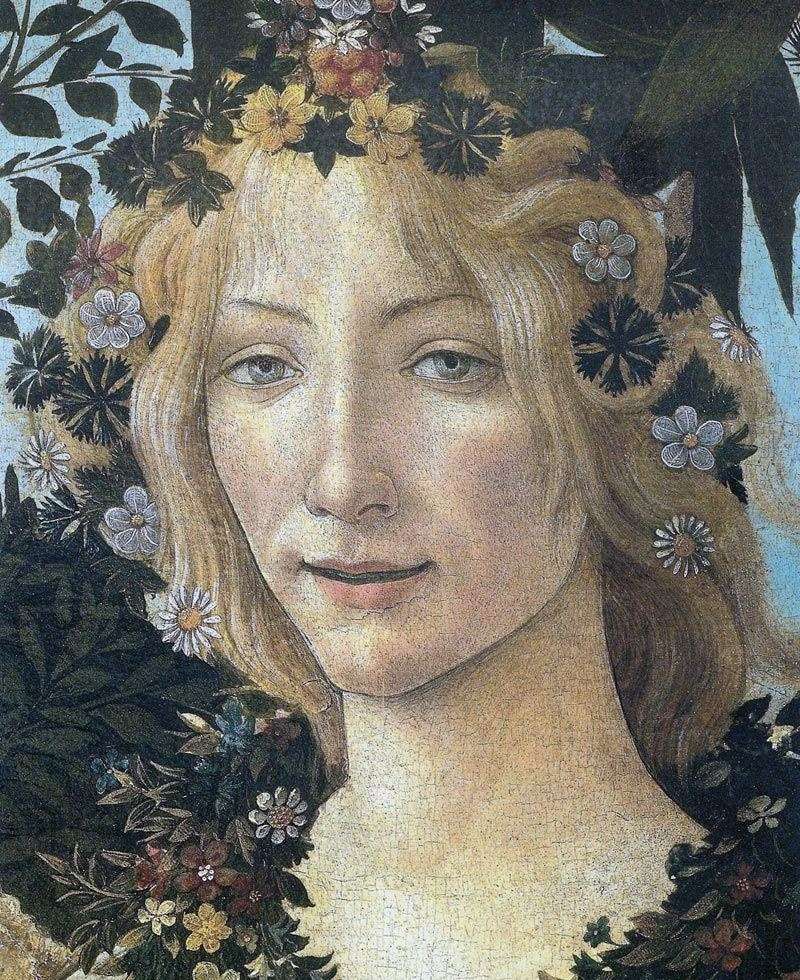 Flora, a fragment of the painting by artist Sandro Botticelli "Spring". Flora – the image of flowering and fruiting of nature. The wreath and necklace of Flora depict cornflowers, daisies, chieber, lilies of the valley, forget-me-nots, myrtle leaves, periwinkles, pomegranate flowers, poppies, buttercups, flowers and strawberries, violet. It is believed that Botticelli schematically depicted plants. But a careful study of the "botanical" aspect of the painting "Spring" showed that more than forty kinds of flowers and herbs are clearly recognized in it.
Botticelli was
not inclined to exact scientific observation, like Leonardo, but he did not follow the principle of conditional treatment of plants, characteristic of the Early Renaissance. The artist was delighted with the perfection of these "small forms" of nature. Sandro Botticelli liked to depict roses, white, pale pink, warm reddish shade, luxurious and ephemeral. His dark cornflowers and white daisies with a yellow core resemble stars. Botticelli weaved into wreaths modest buttercups, forget-me-nots and violets, combining them with strawberry berries and bright garnet flowers.
It turned out a necklace of almost jewelry beauty. This vision on the verge of living beauty of the plant with its decorative expressiveness is also characteristic for the transfer of stems and leaves. Transplanted roses, bushes of carnations and cornflowers "weave" exquisite patterns on the surface of fabrics, and on the meadow "carpet" under the feet of the characters.
In his composition, the artist Sandro Botticelli used the symbolism of colors, accentuating the semantic aspect of the image. Carnations, cornflowers, orange blossoms are associated with the theme of earthly love and marriage. In parallel, another line of meanings is built: the lily is a flower of purity, the carnation is a symbol of the divine trinity, flax, a small aster, all of them point to a sublime love, whose ardor raises a person to the top of spiritual contemplation.