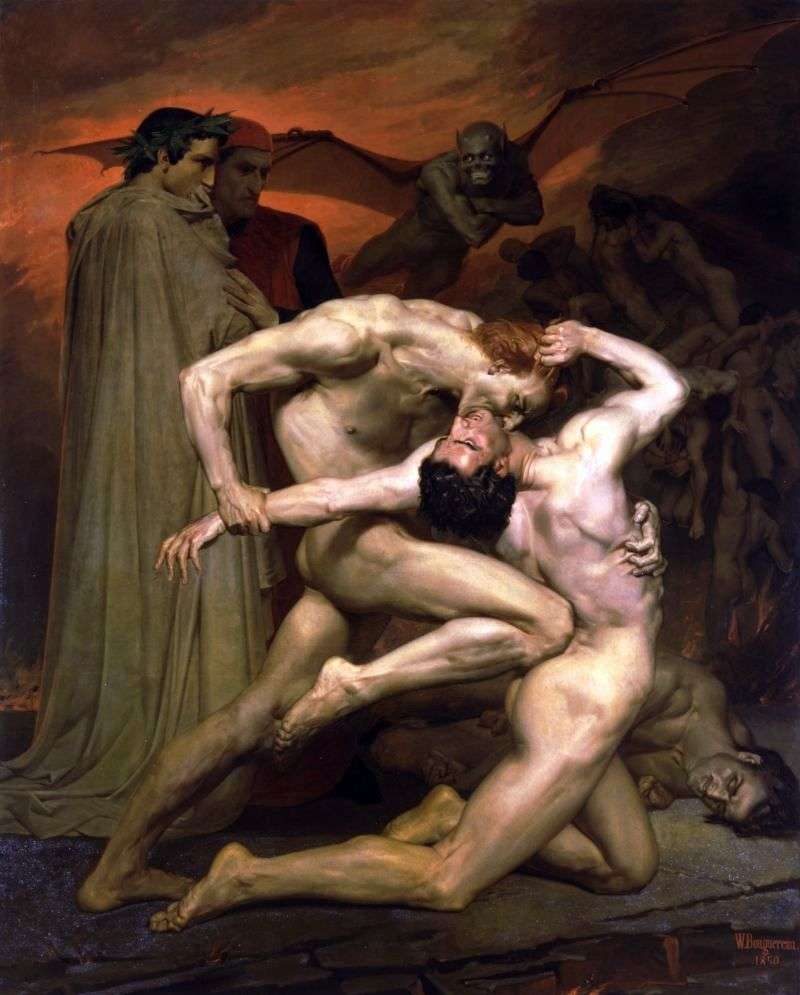 Adolf William Bouguereau, as an artist, belonged to the French academic school. All his work was drawn to biblical and mythological subjects. To the attention of Bouguereau, Dante's works deserved the attention, the illustrator of which was the master. The presented canvas is a sample of the artist's work on the subject of "Divine Comedy". "Dante and Virgil in Hell" was a very gloomy, but fascinating embodiment of the no less gloomy plot of "comedy" in oil.
This picture reflects events involving a raging crowd of sinners in the seventh circle of Hell. There,
accompanied by his teacher Virgil, Dante moves along the third belt of the circle through the eternal torment of blasphemers and rapists over the deity, scurrying sodomites and covetous people.
A piece from the work is taken terrible and oppressive. The artist brought to the fore the sinners who eat each other. Their perspective is unusual and beautiful, I can not believe that these bodies contain vices. Bouguereau portrayed human emotions in dynamics, beautiful anatomy and facial expressions. The debugged mechanism – the technique – the experience – the imagination – showed the world what extends the essence of the hellish darkness and the vegetation of the guilty souls to the canvas.
As in the anthology of the world of Alighieri, and in the canvas of the artist, the heroes of the sad journey – Dante and Virgil – became outsiders. Their Bouguereau placed behind the scenes of violence. The emotions that this couple possesses are striking with tranquility. And the laurel wreath of Dante, and the garments, and the bright vestments of his companion-everything from the earthly world, is pure and contrasts with the filth of Hell.
To endow the plot with an "infernal" mood, the author wrote a gray demon in a red glow. In addition to the heroes tearing each other, Adolf Bugro has enchanted a crowd of naked people climbing bodies, hoping to be saved. The work "Dante and Virgil in Hell" is written in the traditions of salon academicism.
The Bouguereau letter does not differ in special nuances, unlike the selected plots. His technique is very open and understandable. Color, as befits a gloomy narrative, focuses on muted colors, a blood-red base and carbon black. A terrible, but a grandiose work.