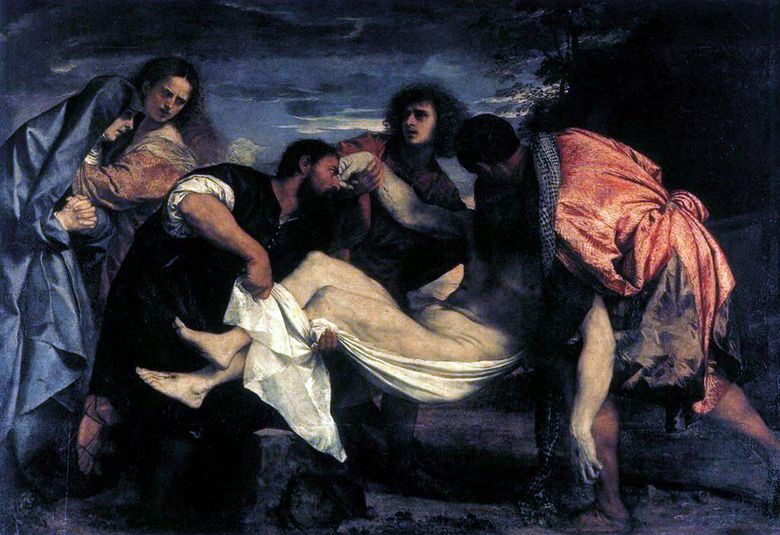 Peinture de Tiziano Vecellio "Position dans la tombe". La taille de l'image est de 148 x 205 cm, huile sur toile. Titian de cette période n'était pas étranger aux thèmes de nature dramatique, ce qui était naturel dans le contexte de la tension des forces dans la difficile lutte que Venise avait récemment connue.
De toute évidence, l'expérience de cette lutte héroïque et les épreuves qui y sont liées ont grandement contribué à la réalisation de la pleine force courageuse et de la grandeur lugubre du pathétique qui a été incarnée par Titien dans son "Position dans la tombe"
du Louvre. Le corps beau et fort du Christ mort évoque dans l'imagination du spectateur l'idée d'un courageux combattant héroïque tombé au combat, et nullement une victime volontaire qui a donné sa vie pour expier les péchés humains. La couleur chaude réservée de l'image, la puissance des mouvements et la force du sentiment de personnes courageuses fortes portant le corps des morts, la compacité même de la composition, dans laquelle les figures portées au premier plan remplissent tout le plan de la toile, donnent à l'image un son héroïque, si caractéristique de l'art de la Haute Renaissance.
Dans cette œuvre, avec tout son drame, il n'y a aucun sentiment de désespoir, une rupture interne. S'il s'agit d'une tragédie, alors, en termes modernes, c'est une tragédie optimiste, chantant la force de l'esprit d'une personne, sa beauté et sa noblesse dans la souffrance. Cela la distingue de la tristesse désespérée de la position de Madrid dans le cercueil.
Au Louvre "Position dans la tombe" et surtout dans le "meurtre de Saint Pierre le Martyr" décédé en 1867 d'un incendie, une nouvelle étape est à noter, réalisée par Titien en transmettant le lien entre l'humeur de la nature et les expériences des personnages représentés. Tels sont les tons sombres et redoutables du coucher de soleil dans The Position in the Coffin, un tourbillon orageux qui balance des arbres dans The Killing of St. Peter, donc en phase avec cette explosion de passions impitoyables, la fureur d'un meurtrier et le désespoir de Peter. Dans ces œuvres, l'état de la nature est, pour ainsi dire, causé par l'action et les passions des gens. À cet égard, la vie de la nature est subordonnée à un homme qui reste "maître du monde". Plus tard, à la fin du Titien, la vie de la nature, en tant qu'incarnation du chaos des forces élémentaires de l'univers, acquiert une existence indépendante et souvent hostile à son pouvoir d'existence.