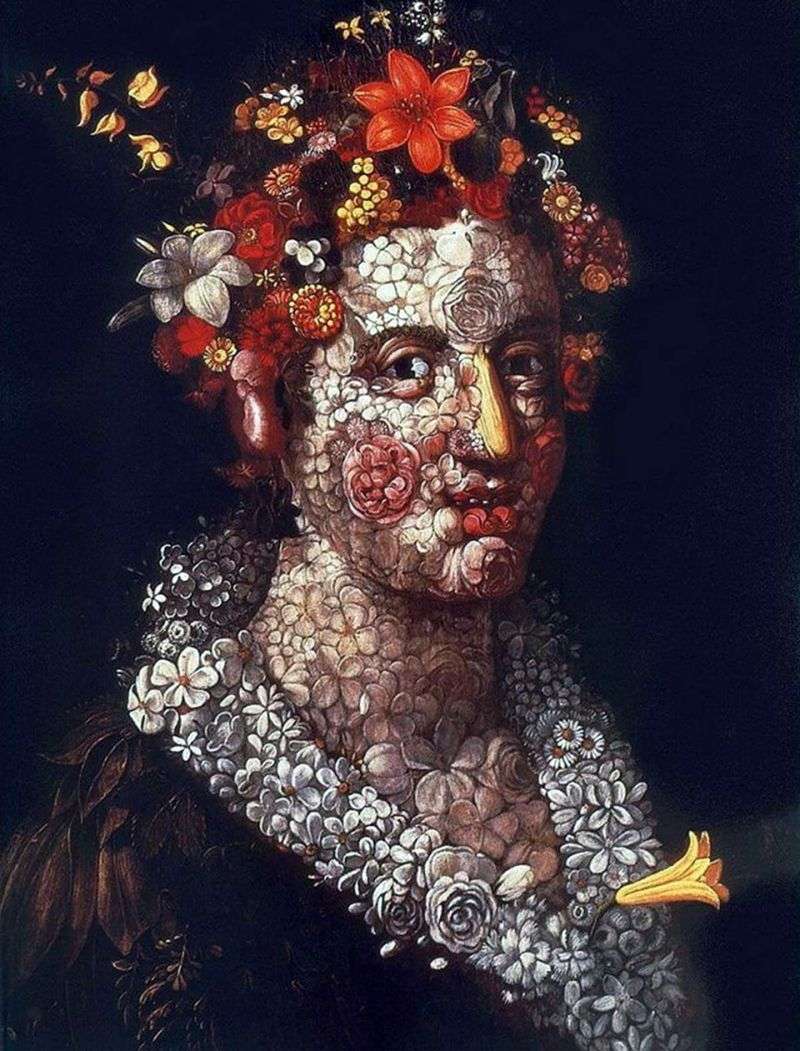 The human portrait, consisting of flowers – so you can describe the work of Giuseppe Arcimboldo called "Flora." Out of the buds and petals, the features of the face and collar are added, and the clothes themselves – from the falling leaves. On his head – a bright wreath, in the center of which is a red lily. From the collar, in the lower part of it, a yellow lily peeps out like a flashlight. At the same time, the portrait turned out to be alive. The eyes have their own expression. It seems that the flora from the portrait is watching us. Only a true master of painting can achieve this.
The freshness and originality of Arcimboldo's ideas appealed to King Rudolf, who was given this gift as a gift, which became one of the artist's later works. Previously, he experimented with a similar theme, creating portraits of the gifts of nature and various objects. Thus appeared his famous cycle "The Seasons". True, there is mainly exploited the theme of a man's portrait. In general, in the genre of a portrait still life in Arcimboldo, men are found much more often.
Here we see a woman who smiles. Is it not because the petals of flowers are so soft and so closely fitting to each other? After all, the author of the picture had to show exactly the female body. Therefore, there should be no sharp rough transitions on it. It should be devoid of any kind of brutality. It must be the real goddess of flowers. But, alas, she looks old: all the same the contours of flowers resemble wrinkles, but the face of an old woman can be beautiful, if it is lit up with a smile and a radiant gaze.
Flora – this is not an old lady, rather a middle-aged lady, wise with experience. This can be seen from her glance. There is no inherent ardor in the young creatures, the state is balanced, the face is written with kindness, but there is a slight irony, like a spark in your eyes.