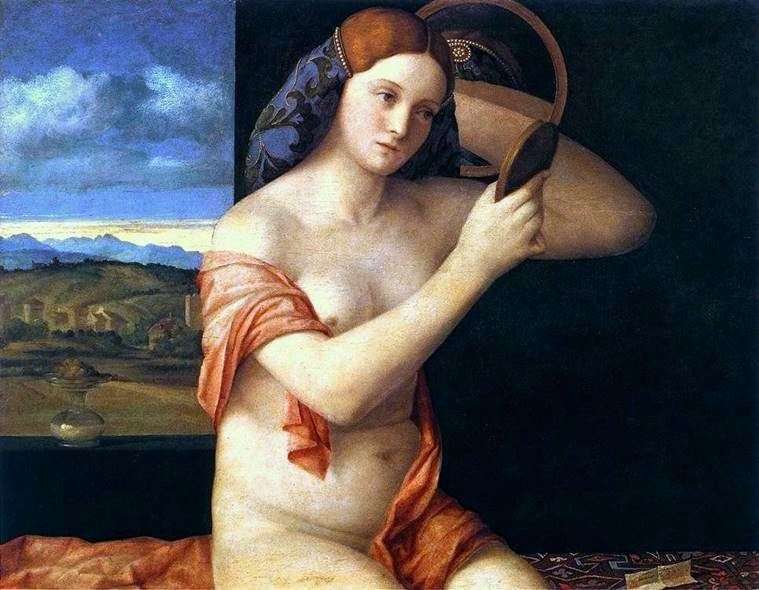 Bellini Giovanni – the youngest and most famous representative of the picturesque dynasty of Bellini, who created in the era of the early Venice Renaissance. His merit is the popularization of the technique of oil painting, worked out by his father and brother.
Giovanni had no less picturesque talent than his half-brother Gentile Bellini. While Gentile, invited by the Turkish sultan, was absent from Venice for 2 years, Giovanni became the official court painter. Numerous orders for portraits from the most aristocratic townsfolk came to him continuously, the marquises and dukes wanted to be captured by a great artist. However, portraits were more a "court" part of the work of Bellini, the main direction of his work was the biblical subjects, in particular the images of the Virgin Mary.
In the picture "Young woman behind the toilet" we see a beautiful naked woman. The image is written almost perfect, devoid of any kind of flaws, which, in combination with the magnificent calming landscape that makes up the background of the composition, resembles the canvases of Bellini himself, depicting the Mother of God. However, during the creation of this picture, the painter departed from religiosity, imprinting a certain standard of female beauty, recognized in high society.
Throughout his life, Bellini was surrounded by talented painters, among whom his father Jacopo Bellini, stepbrother Gentile Bellini, son-in-law of Andrea Mantegna. All of them had a very big influence on the manner of the artist's letter, but Giovanni's painting differs above all in incomparably greater softness and lyricism, imagination play, romanticism. Being already a recognized master, Bellini opened his own studio. His disciples were Titian and Giorgione. According to the custom of that time, the artist often signed the works of the students of the workshop with his own name. Currently, art historians believe that the paintings written by Bellini himself are incomparably better, but at that time any works of the workshop were considered the creations of the artist himself. The great Venetian master has a great role in depicting one of the main centers of the Renaissance.