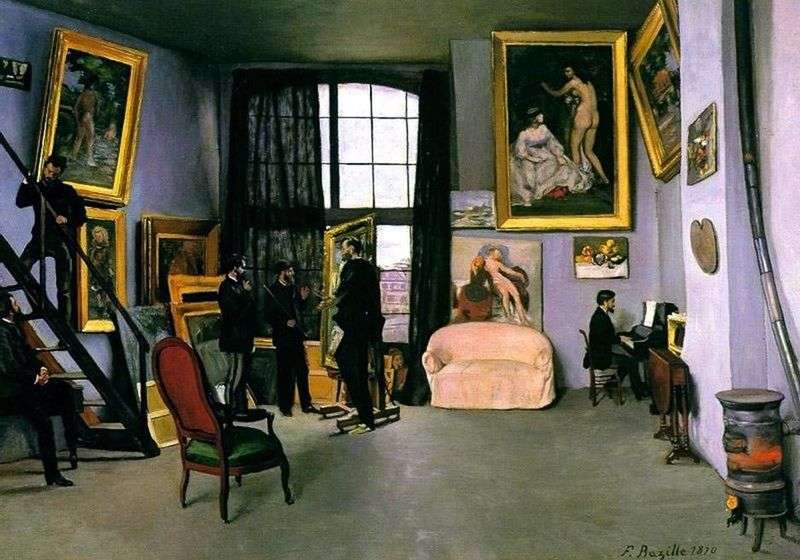 Despite the fact that his passion for painting Frederic Bazil is indebted to the works of Courbet and Delacroix, the artist was able to create a unique style and recognizable style, which, though possessing a pronounced personality, nevertheless fit organically into a new revolutionary trend – impressionism.
The painting "Workshop in Kondamin Street" being, undoubtedly, one of the outstanding works of the master, who was not destined to create for long, attracts attention as a unique document of the past time. The canvas depicts the most famous people, although at the time when the work was written their famous glory was still ahead, except that the scandalous fame after the Salon of 1866 reminded of itself with laughter and mockery of the press, unprepared for the new art.
Emile Zola and Auguste Renoir are fascinated by a lively conversation, at the piano Edmond Meter is a close friend of Basil, and the artist himself in the company of almost the same names – Monet and Manet. And the latter, after Basil completed the picture, personally "conjured" over the portrait similarity of Basil, so this canvas carries and his talented strokes. The wide space of the room is depicted very realistically, where bulky large paintings hung on the walls are combined with a wide stained-glass window under a careless curtain and modestly sheltered in the corner with a pot-bellied stove from which the heating pipe leaves.
The picture aroused a lot of sense, to which Basil was incredibly happy. And although she received more negative assessments, the master was pleased with the fact that they started talking about him.