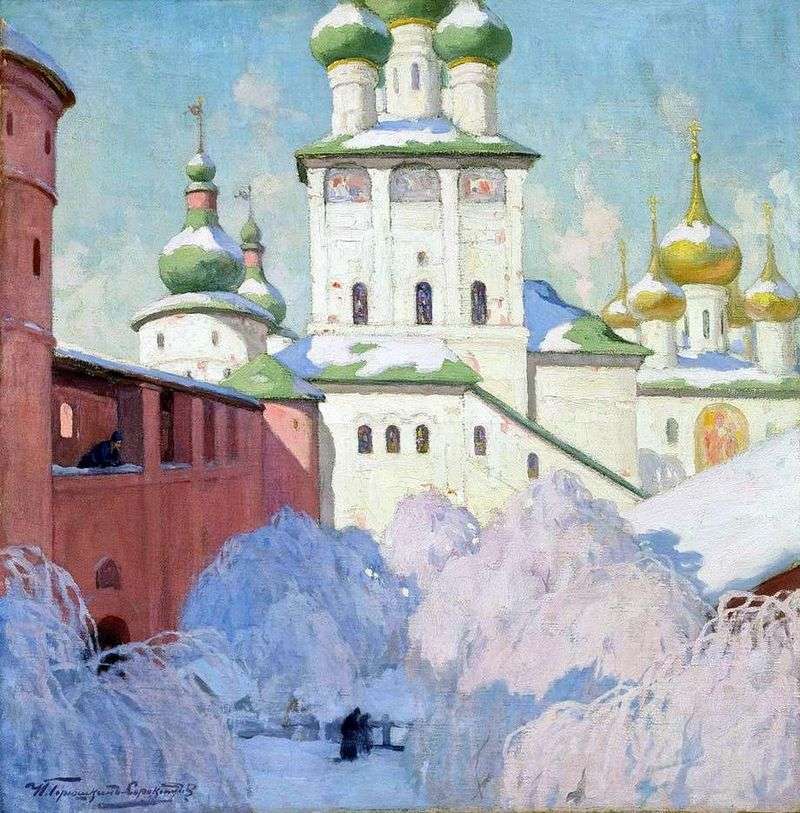 Rostov drew the attention of the artist as one of the oldest Russian cities. For the first time the chronicle mentions it under the year 862. At the end of the 16th century, the Metropolitanate was established in Rostov. In 1651, the Rostov metropolitan was Iona Sysoyevich, who entered the history of his unprecedented in stone construction.
With his name is associated the appearance of a masterpiece of ancient Russian architecture – the ensemble of the Rostov Metropolia, which is often referred to as the Rostov Kremlin. Metropolitan Jonah seemed to be neither a learned theologian nor an outstanding
preacher. But he was a great builder, and unlike many other builders he never changed his taste and sense of harmony. In the history of the Rostov Metropolitanate, Metropolitan Jonah entered as a tireless creator of rare beauty groups, like the metropolitan builder and artist.
The grandiose ensemble of the Rostov metropolia, created from the beginning of the 1670s for twenty years, is a kind of city in the city, surrounded by high walls with eleven towers. Their tent-shaped and "cube-like" completions in combination with the brightly lit fumes and five-domed churches create a surprisingly beautiful picture of the fairy-tale city, the "castle of Kitezh", especially impressive from the Nero Lake. The Rostov Kremlin is often compared to a majestic song, with music frozen in stone. The fortress wall with the towers that covered the buildings of the Metropolitan Court practically did not bear any military significance. The towers of the fortifications were built lower than the high heads of the church, which indicated the advantage of church spiritual power over the secular.
The buildings of the Rostov metropolia were distinguished by restraint and rigor. With special elegance, only the gate with the gate churches of the Resurrection above the north entrance and John the Theologian over the western church were executed. The Church of St. John the Theologian was built in 1683, the last in the Metropolitan House, and served as a house church under the Chamber for the coming of sovereigns. This is one of the most inspired and refined churches in the whole ensemble of the Rostov Metropolis. The complex of the Rostov Kremlin is a model of a single artistic idea.
This is a full Russian national ensemble, where there was no recycling of foreign achievements, but a brilliant rise of the national creativity of Russian masters. Now the Rostov architectural and art museum-reserve is located in the Kremlin.