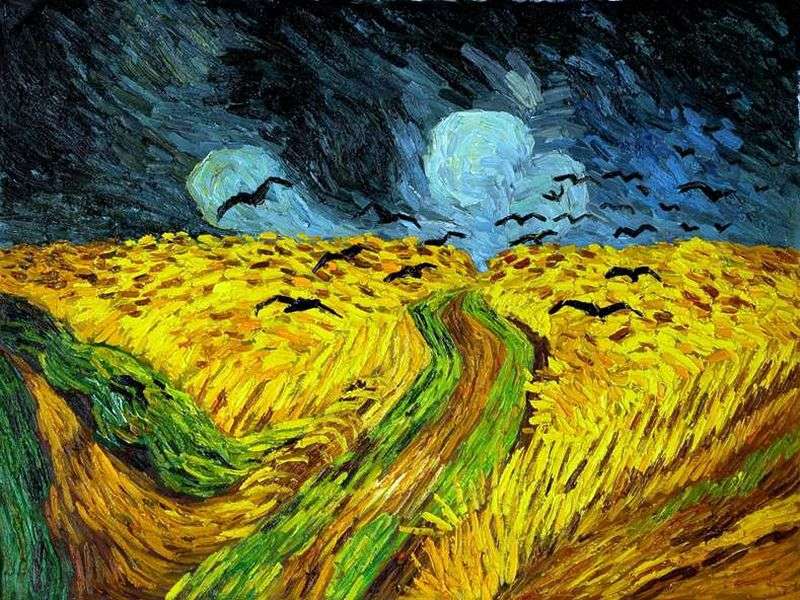 This famous work was painted by Van Gogh in July 1890, nineteen days before his death.
According to one version, set out in particular in the film "Lust for Life", the artist committed suicide immediately after the painting. But this assumption does not have sufficient grounds. Study Van Gogh letters shows that the painting was not his last work, but the issue is still not fully understood.
Depressive and gloom picture fully illustrates the emotional gap that has led to Van Gogh's death. The painting is divided into two parts, the sharp contrast which sounds heavy disharmonious chord. The thick, almost black sky strokes
create the top of the nervous dynamics.
Yellow wheat is bent in the wind. Three winding rough road seemed to go nowhere, lost among the ears of corn. Something frightened flock of ravens rush to the sky, writing in the letter "M" canvas. Their dull black gives the picture some depth, but it makes it even more grim.
Van Gogh wrote that at the sight of the vast wheat fields it covers the longing and sadness. Here we see an extreme manifestation of these emotions. Smears randomly sketched on the canvas severe nervous hand a man who no longer has control over their condition.
The heavy burden of life loss, acute internal contradictions outweighed something beautiful bright start, which Van Gogh, unfortunately, was not able to bring people in life.