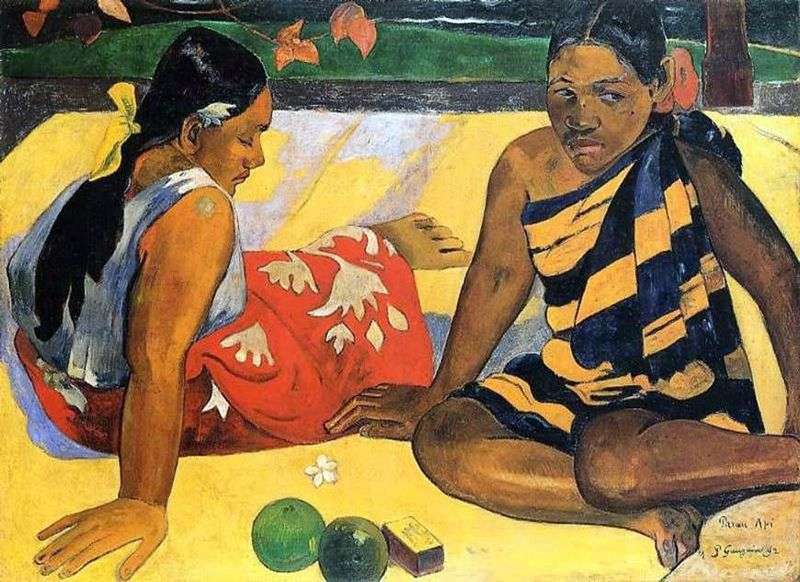 Arriving in Tahiti, Gauguin discovers a completely new aesthetic that sounded in unison with his ideas about color, plot and technique. Feeling free as a man, he began to create as a free artist. One of the most iconic paintings of the first Tahitian period of creativity is the picture "Two Tahitian women" or "Para api?", Which translates from the local language as "What's new?".
This is the first work of Gauguin, where Tahitian women are depicted in close-up. Before that, the talented hand of the master had already created "Gossip", "Dreams", "Fiery Dance", but all these pictures seemed to prepare the viewer for the appearance of "Parau api?".
In the picture we see two women dressed in bright, spacious dresses. Their postures are relaxed and at ease. Such simplicity and naturalness always attracted the painter. One of the women is presented to the viewer from the back, only the careless turn of her head allows at least a slight look at her face.
The hair of the heroines is amazingly depicted – sparkling, glowing in the sun, they frame the unusual exotic faces of the girls. Voronoy hair color is shaded with interwoven bright bows – red in one and yellow in the second.
In Tahiti, the painter has developed one of the main features of his unique style: the presence in the works of brightly colored elements, expressed colorful patterns, colors and other similar elements. In this work, this trend is embodied in the dress of one of the heroines – snow-white flowers on a bright red skirt invariably divert attention to themselves.
Striving to focus on exotic heroines, the author not only made the first plan larger, but also depersonalized the background. The background of the picture is represented by an even yellow color with dark stripes in the upper part of the work.
Two girls are carried away by a leisurely conversation – sitting more comfortably, they do not look at the viewer, their look is full of thoughtfulness, sideways or prostrate. "What's new?" – the question is in the air, as the main meaning of content, as the plot-forming theme of the picture.
Today the picture with an inquiring story is exhibited in Germany.